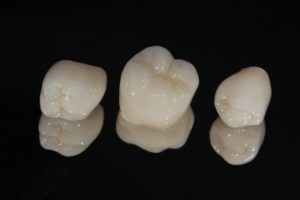 You have a noticeable chip in your tooth, marring your smile. But you don't want to take time out of your busy schedule to book two dental appointments to get it fixed with a crown. Luckily, there's a solution – CEREC same-day crowns! These custom restorations are created in an hour or less, allowing you to heal your tooth and resume your day. Read on to learn all about CEREC crowns and their benefits.
Why Might You Need a Dental Crown?
Your dentist may recommend a crown to:
Protect a tooth that has been cracked or weakened by decay
Support a tooth with a large filling
Restore a worn-down tooth
Cover a dental implant or hold a bridge
Cosmetically enhance a tooth
What Are the Benefits of CEREC Same-Day Crowns?
CEREC stands for Chairside Economic Restorations of Esthetic Ceramics. What that essentially means is that these one-visit restorations are crafted in a single appointment from a block of pressed ceramic materials. Because of this computer-aided process, CEREC crowns offer several benefits over their traditional counterparts, including:
Can be completed in just one visit, in about an hour
No need to wear a temporary crown
Made from ceramic which looks just like natural tooth enamel
Impressions taken with a digital camera, not with messy putty-like material
Since the dentist makes the crown, they can easily adjust it to ensure the perfect fit instead of having to send it back to a lab.
The CEREC Process
Now, let's talk about how exactly the CEREC process works. Once your tooth has been properly shaped for the crown, your dentist will use a tiny digital camera to capture highly accurate 3D images of it. The blueprint of your tooth will be sent via your dentist's computer to an attached milling machine, which will create your crown from a solid block of dental porcelain. Before it's placed permanently on your tooth, your dentist will make sure it fits within your bite and adjust it accordingly. The restoration will then be polished and attached, and then you'll be sent on your way, with no need for a follow-up appointment!
If you have a chipped, broken, or discolored tooth, you no longer have to wait several weeks while wearing an often uncomfortable and easily dislodged temporary crown. Now you can get your permanent crown in just one visit!
About the Author
Dr. Shane Vaughn has been recognized as a Fellow of the Academy of General Dentistry and has also been published in the International Journal of Oral and Maxillofacial Implants. His practice in Jupiter, FL offers CEREC same-day crowns to help you receive the restoration you deserve in just one visit to his office. To set up an appointment, contact Dr. Vaughn by clicking here.