A Local, Family Owned General Dentist Office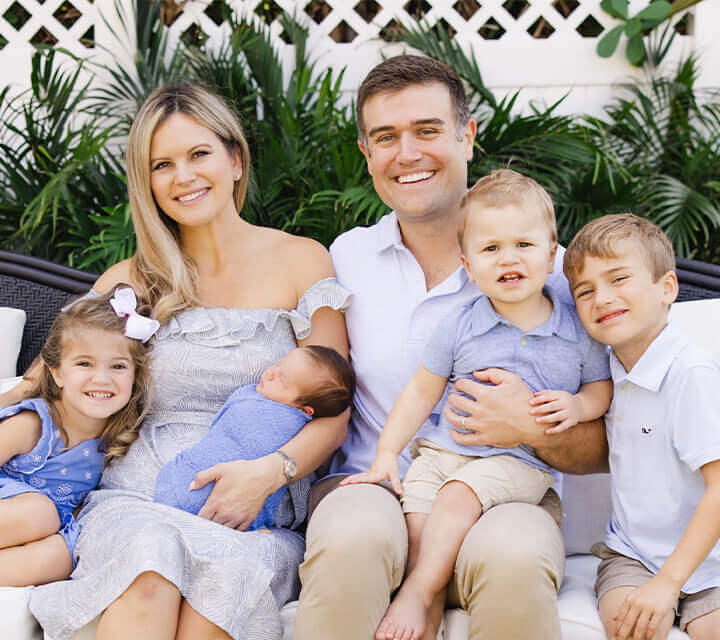 Husband & Wife Dentists
Bringing our family to yours
At Jupiter Implant & Cosmetic Dentistry, you can look forward to being cared for by two experienced and passionate dentists in Jupiter who both have your best interests at heart. As husband and wife, Dr. Shane and Dr. Amiee certainly have plenty of experience with working together, and their collaborative approach results in smoother, more successful dental treatment plans and brighter smiles as well. They also enjoy treating patients nearby just like their own family and creating a comfortable, soothing environment for each appointment that exceeds expectations.
Meet the Dentists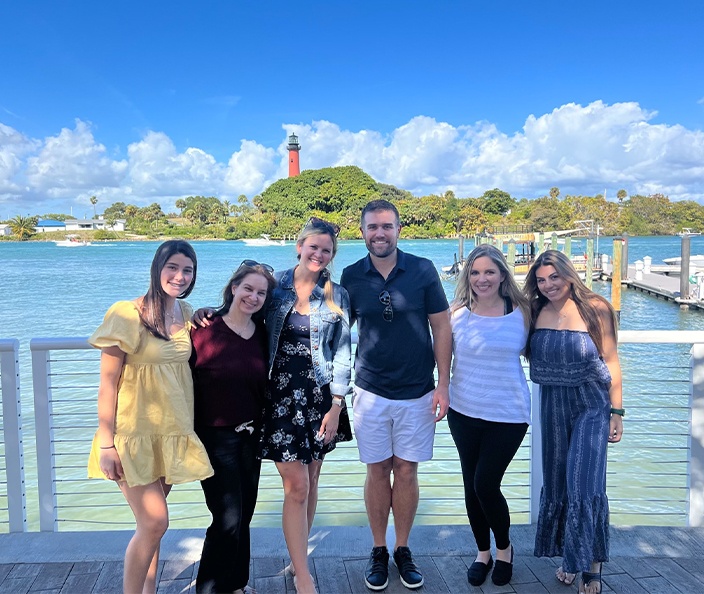 Your Dental Team
Going Above & Beyond
Is Just What We Do
From the moment you walk through the dental office's front door, our team will be working hard to create a care experience that's relaxing, warm, and smile-inducing. You'll find our friendly faces at the front desk and in the treatment operatory alike, ready to answer questions and address concerns as soon as they arise. We'll also be happy to help you navigate scheduling matters, patient forms, financial options, and other important factors without any unnecessary stress.
Meet your Dental Team
Dental Patient Reviews
What Others Are Saying
"Dr. Vaughn is professional, thorough and loves what she does. I highly recommend her. She takes all the stress out of going to the dentist!"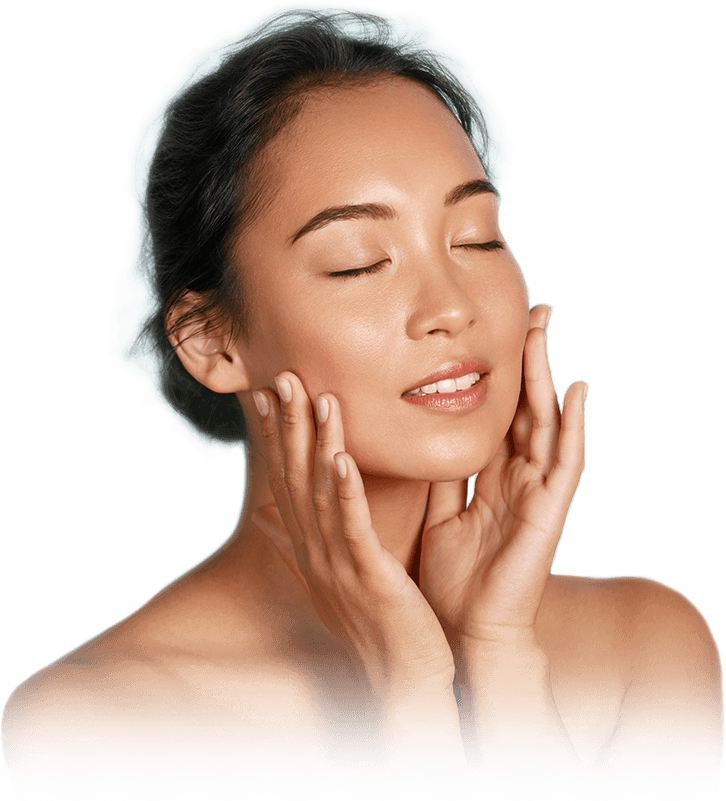 Botox

Dermal
Fillers
Community Involvement
Our team is so proud to be a part of the greater Jupiter community, and creating new reasons to smile is always a big passion for us – both inside and outside of the dental office. We're regularly getting involved in good local causes and also going on dental mission trips to bring important care to underserved populations all over the world.
Get Involved with Us
Our Dental Treatments
Everything You Need at One Convenient Location
Having to travel all over Jupiter to visit several different dental specialists can be a big drain on valuable free time – so why not find one trusted dental office in your area that can accommodate all of your different goals and concerns instead? Our practice strives to cover all the bases, offering an extensive dental services menu that features simple essentials like checkups, advanced restorative care for damaged smiles, modern tooth replacements, stunning cosmetic makeovers, emergency dentistry appointments, and so much more. We can't wait to get started.
Experience all of Our Dental Services
DENTAL INSURANCE & FINANCING
WHERE
HIGH-QUALITY
DENTISTRY AND AFFORDABILITY MEET
At Jupiter Implant & Cosmetic Dentistry, we whole-heartedly believe that cost shouldn't stand in the way of pristine oral health and beautiful smiles. That's why we are proud to work with all insurance companies, and we'll even do the hard work for you! We'd be happy to go over your benefits and maximize your coverage, so you can enjoy the most savings as possible. No dental insurance? No problem! We also offer financing through CareCredit, which breaks up the cost of extensive treatment into manageable monthly amounts. So, whether a toothache needs restorative treatment, you want to rebuild your smile with dental implants, or you are interested in perfecting your smile with cosmetic dentistry, you can achieve your smile goals without breaking the bank.
FINDING OUR OFFICE NEAR YOU
WORLD-CLASS DENTAL CARE IN THE HEART OF JUPITER
Is it time for your routine visit? You can find our office at 651 W. Indiantown Road, Suite A, right off State Road 706. We are also just down the street from Town Hall, Jupiter Elementary School, and the Jupiter Police Department. Plus, we are surrounded by a number of familiar food options, like Wendy's, Burger King, and ZIP's NY Pizza & Italian Kitchen. If you would like step-by-step instructions, don't hesitate to give our team a call!
Frequently Asked Questions
Dr. Shane and Dr. Amiee are always happy to answer questions about oral healthcare. Call our office right away if there's anything on your mind regarding your oral health or the services we offer at our practice. For those who want to do some research on their own first, we have put together a list of common questions along with answers. Review the list below, and if you can't find what you're looking for, reach out to schedule an appointment .
How Can I Make a Same-Day Appointment with a Dentist?
If you have an urgent dental problem that needs immediate attention (such as a tooth that has been cracked or knocked out of the mouth), the first thing you should do is call our office. We'll make arrangements to see you on the same day of your accident whenever possible. When you call our office, we'll ask about your symptoms and determine how severe they are to determine whether you need to come in immediately or can have an appointment scheduled for a later time. Regardless of when you visit or how serious your problem is, you'll always be treated with empathy and understanding, and we'll work to treat the immediate symptoms and determine the root of the problem so that it can be treated appropriately.
How Do I Find the Best Place to Get Dental Work Done?
Think about your own priorities when it comes to oral healthcare. Are you looking for a practice that is in-network with your insurance company? Do you want a dentist close to wear you live or work? Are you looking for a specific kind of treatment for yourself or your loved ones? Set your own criteria for finding the right dental practice. At Jupiter Implant and Cosmetic Dentistry, we are in-network with several major dental PPOs, and we offer many different specialty services (such as All-on-4 implants and periodontal therapy) in one location.
What Do You Do If You Can't Afford a Dentist?
Forgoing dental treatment now could cause more serious problems in the future. That means that not paying for preventive care might lead to more costly procedures. It's best to explore your options for making dental care as affordable as possible so that you can avoid the worst possible outcome. Dental insurance can be a great investment that significantly cuts down on how much you'll spend on your care; most policies cover preventive services at 80% or even 100%, meaning you'll save a lot of money on regular checkups. And if you don't have insurance or need additional help paying for costly procedures, you can apply for CareCredit financing plans. You can also sign up for our dental savings plan, which covers a year's worth of preventive care and allows for discounts off all of our other in-office procedures.
How Much Does a Dental Check-Up and Cleaning Cost in Jupiter?
The average cost of a dental checkup and cleaning in the United States is between $200 and $350, but dental insurance usually mostly or entirely covers the cost of preventive care. Contact your dental practice as well as your insurance carrier to figure out how much you can expect to pay for your visit. During these visits, we'll check your mouth for signs of tooth decay, gum disease, and oral cancer; we'll also remove harmful plaque and tartar around your teeth and gums.
How Much Does It Cost to Get a Tooth Pulled Without Insurance?
The average tooth extraction can cost anywhere between $150 and $400 depending on how complex the procedure is. Factors that need to be considered include the location of the office, the state of your oral health, whether sedation is used, and whether you're receiving surgical or simple extraction. Uninsured patients can apply for CareCredit financing so that they can pay in smaller installments, or they can sign up for our in-house savings plan.