Wisdom Tooth Extractions – Jupiter, FL
How We Remove Troublesome Wisdom Teeth
The wisdom teeth are the third set of molars that usually try to come in around the late teens or early twenties. The keyword there is "try," as for most people, a lack of room in their jawbone causes them to become impacted, or stuck below the gum line. This can cause pain in the jaw, push the other teeth out of place, and even lead to an infection, which is why these teeth are usually removed. At Jupiter Implant & Cosmetic Dentistry, we can provide this procedure for our patients so they can get the care they need without having to take the time or expense visiting an outside specialist.
Why Choose Our Dental Office for Wisdom Tooth Extractions?
Soothing IV sedation available on-site
Patient comfort comes first
Latest technology leads to faster, higher-quality care
What to Expect During a Wisdom Tooth Extraction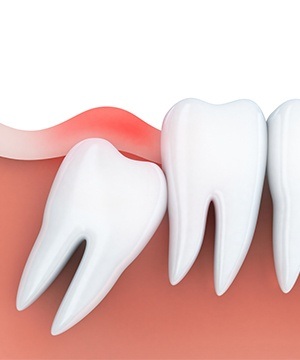 Most of the time, the wisdom teeth need to be removed using a procedure called a surgical extraction, because as we touched on above, they tend to not erupt fully. This involves removing any gum and bone tissue that is holding onto a tooth before extracting the tooth itself. Before we do anything, we thoroughly numb a patient with a local anesthetic so they are guaranteed to not feel a thing.
Once the tooth is removed, we'll close the treatment site with self-dissolving stitches. A patient will likely experience a little bleeding and swelling afterward, but their mouth should feel completely normal within the next week.