Veneers – Jupiter, FL
How to Rejuvenate Your Smile
Whether you are walking into a job interview or preparing for a first date, your smile will likely be the first thing someone else notices about you. If you have cracked, misshapen or stained teeth, however, you may not be able to smile with confidence. Fortunately, our team at Jupiter Implant & Cosmetic Dentistry can help. Whether you have a single chipped tooth or want to transform your entire smile, veneers in Jupiter can help you achieve the beautiful smile of your dreams. Contact us today to learn more about veneers and how you can get started on your path to a showstopping smile!
Why Choose Our Dental Practice for Veneers?
Customized Veneers Designed Specifically For Your Smile
Get Everything From a Minor Touch-Up to a Dramatic Makeover
Husband & Wife Team Make Our Office Feel Like a Home
What are Dental Veneers?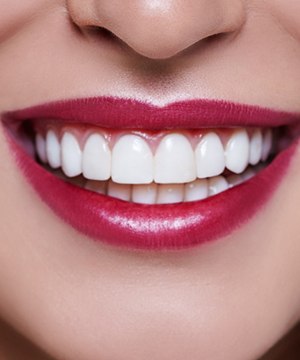 Veneers are thin, durable shells made of porcelain or ceramic that can be bonded to the front of teeth to fix minor flaws. Primarily a cosmetic procedure, veneers are a proven way to effectively conceal common dental imperfections, such as:
Misaligned or misshapen teeth
Chipped teeth
Stained teeth
Gapped teeth
Over or undersized teeth
These unique restorations are far more stain-resistant than traditional tooth enamel, and they can last 10 years or longer with proper care and maintenance.
The Process of Getting Veneers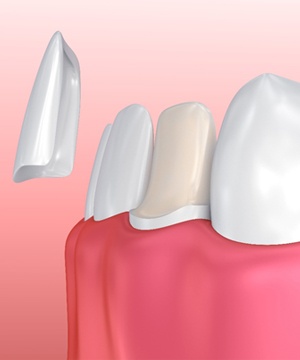 You can completely transform your smile with veneers in just two easy trips to our convenient Jupiter practice.
During your first visit, Dr. Vaughn will prepare your teeth for veneers by removing a tiny amount – less than a millimeter – of tooth enamel from the front of your teeth. This helps make space for the veneers to fit naturally on top of your teeth and not appear oversized. Next, bite impressions will be taken and sent to the laboratory, where your custom-made veneers will be created.
After a few short weeks, we will greet you again when you visit for your veneer placement appointment. Once your teeth are cleaned and prepped for bonding, your cosmetic dentist in Jupiter will apply the veneers to the top of your teeth. They are strongly affixed to the front of teeth using a light-sensitive resin and special curing light that hardens the resin quickly.
The Benefits of Veneers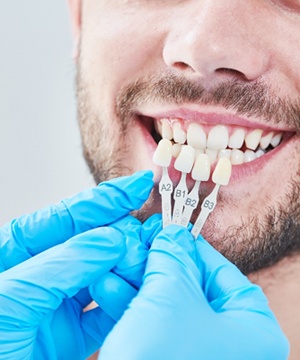 You will be eager to show off your new smile after getting veneers! Because of their transformative ability, you can expect to experience many great benefits, such as:
Immediate results – Once the placement procedure is complete, you can leave our office happy and immediately get back to your normal routine.
Natural appearance – Veneers have a translucent quality similar to natural tooth enamel. This enables veneers to blend in seamlessly with the rest of your smile.
Brighter smile – Veneers do not easily stain from coffee, wine, and other dark foods and drinks, as they are not porous like traditional tooth enamel.
Long-lasting – With proper care, your rejuvenated smile should last from 10 to 15 years!
Versatility – Veneers are capable of hiding an array of cosmetic imperfections (i.e., chips, cracks, stains, misshapen teeth, misalignment, and more).
How to Care for Veneers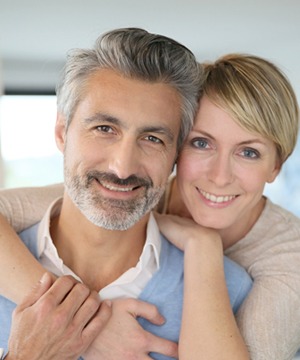 Just like with your natural teeth, it is important to take proper care of your veneers. Here are some helpful tips to ensure your investment remains secure and a part of your smile for as long as possible:
Choose a non-abrasive toothpaste and brush your teeth twice a day – and don't forget to floss!
Wear a bite guard at night if you grind or clench your teeth when sleeping. Grinding your teeth can damage your veneers.
Be sure to visit a dentist in Jupiter every six months for a routine checkup. If you return to Jupiter Implant & Cosmetic Dentistry for your biannual checkups – and we hope you do! – Dr. Vaughn will inspect your veneers for any signs of trouble and polish them with a specially formulated, non-abrasive paste.
Understanding the Cost of Veneers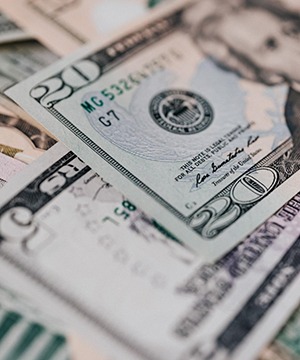 Veneers aren't just for movie stars. People from all walks of life invest in stunning smiles using the versatile procedure. Contrary to many rumors, the cost of veneers in Jupiter isn't as expensive as you might have heard. Although there isn't a flat fee for veneers, we have the financial solutions you need to keep the smile of your dreams affordable.
Cost VS Cosmetic Dentistry: What's Right For Me?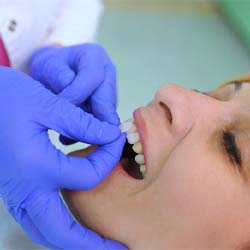 Did you know every smile is as unique as fingerprints? Therefore, there isn't a one-size-fits-all method to create an attractive smile. In fact, there are likely multiple solutions to achieve the results you want, which is why there's not a single cost for cosmetic services. After examining your mouth and learning more about your goals, your cosmetic dentist in Jupiter will review all your options, which may include:
Braces: Metal braces aren't the only way to fix bite and alignment issues. Clear aligners are discreet, but you can expect your treatment to take about 12 months. Veneers can be a quicker option to close gaps between teeth.
Teeth Whitening: Professional whitening systems can get your teeth up to 8 shades brighter, but they aren't effective on all types of discoloration. Veneers can cover all stains with results that can last for years.
Direct Bonding: Dental Bonding uses composite resin to correct minor issues in a hurry. However, it isn't as durable as other methods. Veneers provide many of the same benefits, but they can last for a decade or longer with the right care.
Veneers: Veneers can fix several issues at once, eliminating the need for multiple procedures. When applied to the teeth most visible when smiling, they can cover discoloration, chips, cracks, and gaps. It can be a cost-effective option that only requires 2 appointments.
Your dentist will review all your options to feel confident in the decision you're making for your smile.
How to Make Veneers Affordable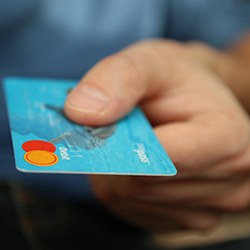 A beautiful smile is more achievable than you might realize. A member of our team will review all your payment options, including:
Traditional Payments: Our office accepts all traditional payment methods, including cash, checks, and credit cards.
Dental Insurance: It is rare for dental insurance to pay for elective services, but there are exceptions. If a procedure is medically necessary, like replacing restorations, you may be able to use your coverage to offset the cost. Depending on your treatment plan, your benefits may include any preparatory procedures, like gum disease therapy.
Third-Party Financing: Pay for your smile using monthly installments through a third-party financing company, like CareCredit.
In-House Savings Plan: Benefit from reduced rates by joining our in-house savings plan.
You will know exactly what you will have to pay before committing to anything. If you have questions about your payment options, or you are ready to request your consultation for veneers in Jupiter, contact our office today. We look forward to creating a picture-perfect smile.
Veneers FAQs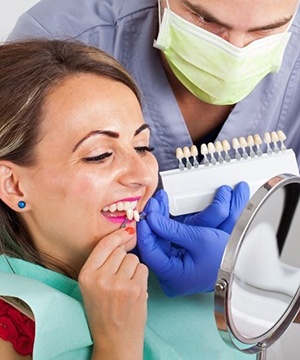 If you're interested in an easy way to correct cosmetic flaws in your smile, look no further than veneers in Jupiter. These custom-made restorations are versatile enough to conceal virtually any cosmetic imperfection you may have in your smile. However, it's perfectly normal to have some questions about the process. That's why we've answered some of our most frequently asked questions about veneers down below.
ARE VENEERS PERMANENT?
You can expect your veneers to last upwards of 10 years, possibly 20 if you take proper care of them. However, because a small amount of enamel is removed during the placement process, veneers are indeed considered a permanent treatment. As a result, your affected teeth will always need some sort of protection afterward. Whether you choose to replace your veneers with a crown or more veneers, you'll always require some sort of restoration over your pearly whites.
WILL VENEERS STAIN?
The great news about veneers is that they are much more highly resistant to staining than your natural tooth enamel is. This means that you should be able to enjoy items like coffee, tea, wine, berries, and darkly colored sauces to your heart's content without worrying about your smile becoming discolored.
WILL VENEERS AFFECT MY DIET?
Unlike traditional braces, which severely limit the number of foods that patients can enjoy, veneers shouldn't impact your diet. You can enjoy your fair share of foods like popcorn and caramel as much as you want. As with natural teeth, though, chewing on hard items like ice, pencils, fingernails, and hard candies can increase the chances of breakage. However, keep in mind that cracking or chipping veneers is a very rare occurrence since they are quite durable.
WILL VENEERS APPEAR WHITER THAN THE REST OF MY TEETH?
Before your cosmetic dentist in Jupiter places your veneers, they will work with you to determine the ideal shade of your new restorations. We can make sure that your veneers blend in with your existing smile. In fact, we can even customize your veneers so that your surrounding natural teeth appear lighter. Some patients choose to undergo professional teeth whitening treatment before placing veneers so that their smiles look several shades brighter overall.
DO VENEERS INCREASE MY RISK OF CAVITIES?
Since teeth with veneers function exactly like natural teeth, they should not inherently put you at a higher risk for tooth decay. As long as you take good care of your veneers with regular brushing, flossing, and attending dental checkups and cleanings, your chances of developing cavities should decrease significantly.