Invisalign Alternative – Jupiter, FL
Leave Crooked Teeth in the Past with SureSmile!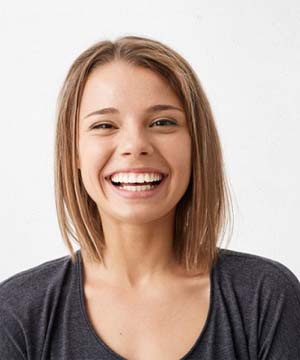 Do you wish you could have straighter teeth without sacrificing your image by wearing dark metal braces? With our Invisalign alternative in Jupiter, FL, you can! Our clear aligners, called SureSmile, let you achieve your smile goals more discreetly, comfortably, and quickly than traditional braces. In fact, no one even has to know that you're going through orthodontic treatment at all! Give our team at Jupiter Implant and Cosmetic Dentistry a call today to learn more about how SureSmile can help you straighten your teeth without the hassle.
Why Choose Jupiter Implant and Cosmetic Dentistry for SureSmile?
iTero Digital Scanner for Comfortable Impressions & Precise Aligners
Members of the American Academy of Cosmetic Dentistry
We Accept & Maximize All Dental Insurance
How SureSmile Works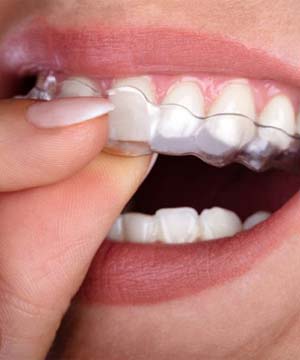 Like any other form of orthodontics, our Invisalign alternative is designed to gradually bring your teeth into more aligned positions. Instead of metal wires and brackets, this solution uses clear plastic trays.
When you first meet with Dr. Shane or Dr. Amiee for a consultation, they'll capture digital impressions of your teeth using a highly advanced iTero scanner. These impressions are then used to create a series of aligners, each one representing one step closer to your ideal smile. You'll wear the trays for about 20 to 22 hours a day. Every few weeks, you'll switch to a different set of aligners until your entire smile is perfectly uniform.
Issues That SureSmile Can Fix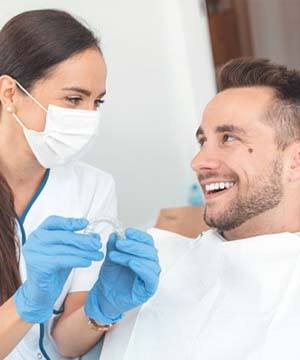 Since clear aligners were first introduced in 1999, they have helped countless patients correct mild to moderate cases of various orthodontic issues, including:
Crowded Teeth
Does it feel like you have too many teeth in your mouth? Do some of your teeth push against others, causing them to be crooked? In either case, SureSmile can exert the right amount of pressure to address this problem. Not only will you enjoy a more even smile, but you may have a reduced risk of cavities and gum disease because brushing and flossing will become easier and more effective.
Gapped Teeth
Significant spaces between your teeth can impact your oral health in addition to your self-confidence. Luckily, our Invisalign alternative can improve both. The aligners can slowly close the gaps between your teeth, preventing food debris and bacteria from becoming trapped and wreaking havoc on your smile's health.
Misaligned Bite
If your upper and lower teeth don't quite come together properly, you could have a bite alignment problem like an overbite, underbite, or crossbite. These may cause difficulty chewing or chronic teeth grinding, but SureSmile can thankfully bring both of your arches into the correct alignment.
The Benefits of SureSmile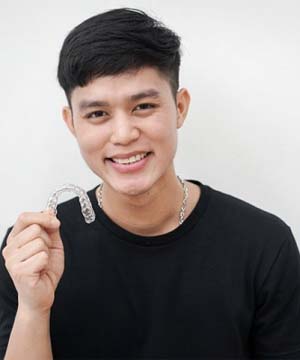 As any dentist in Jupiter will tell you, patients overwhelmingly prefer clear aligners to traditional braces. Its popularity may stem from the fact that treatments like SureSmile:
Can be removed at any time.
Provide results within 12 to 18 months on average.
Are designed to minimize discomfort.
Don't require you to alter your diet or oral hygiene routine.
Are practically unnoticeable when they're in your mouth.
Understanding the Cost of SureSmile
Now that you know why clear aligners are the preferred orthodontic solution for so many patients, you're probably wondering how much it costs. The price of SureSmile actually depends on several factors, including the changes we need to make to your smile. Our dentists can go over these variables in detail as part of your consultation. After providing you with a cost estimate, you'll also have a chance to discuss financing options with our team. That way, you won't have to worry about breaking the bank just to straighten your smile.
Factors that Affect the Cost of SureSmile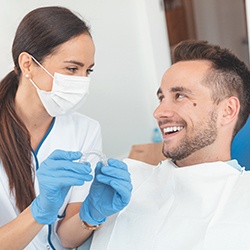 Several key factors influence the total cost of SureSmile in Jupiter, including:
The number of aligners needed for treatment. This often depends on the severity of your case and the type of dental misalignment.
Whether you're straightening one arch or both. Straightening both arches typically costs more than straightening just one.
Your compliance with treatment. If you lose or damage an aligner, you'll have to pay for a replacement.
Whether you need any additional accessories. Depending on your case, you may need elastics (small rubber bands) or other accessories to help you achieve your desired results.
SureSmile vs. Smile Direct Club™: Which Costs More?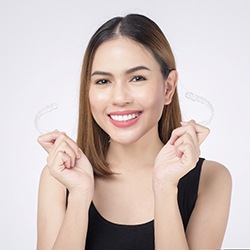 Are you tired of having crooked teeth? While researching solutions, you likely came across do-it-yourself treatments like SmileDirectClub™. Since they're a "quick fix" for misaligned teeth at a low cost, they've become increasingly popular in recent years. DIY aligners usually cost around $2,000, while our Invisalign alternative may cost anywhere between $3,000 and $8,000. Even though it's tempting to opt for the more affordable, it's important to remember that you get what you pay for.
SmileDirectClub™ comes with little to no supervision from a dental professional. Many things can go wrong throughout the process, resulting in issues that will need to be corrected by a dental professional and cost you thousands of dollars. In fact, there have been cases where do-it-yourself clear aligners made dental misalignment worse!
Meanwhile, you can enjoy personalized support and guidance from our dental team at Jupiter Implant and Cosmetic Dentistry during your SureSmile treatment. We'll be there every step of the way, monitoring your progress to ensure you're on track with your plan. Additionally, the clear aligners are made using patented materials that are designed for comfort and efficient tooth movements. Even though it isn't as cost-effective as SmileDirectClub™, it's worth paying for a smoother and more successful treatment overall.
Does Dental Insurance Cover SureSmile?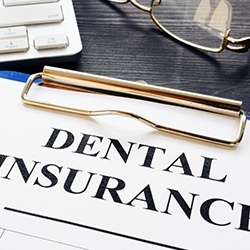 Some dental insurance plans do offer coverage for orthodontic treatment. However, clear aligner treatment is sometimes left out of those policies. Since every plan is unique, you should check with your insurance company to fully understand what's covered. If you have any questions about your policy, you can call your insurance provider or ask our team for assistance. At your consultation, we'll gladly explain the details of your plan and how you can use it to your greatest advantage.
Options for Making SureSmile Affordable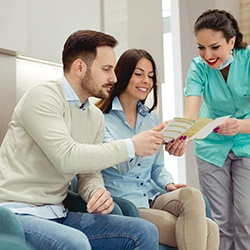 We understand some patients don't have dental insurance. That's why we offer CareCredit financing to help make your dental bills easier to manage. With this option, you can split up the total cost of your treatment into smaller, budget-friendly monthly installments. This low-to-no interest financing option is available in a number of plans with various payment schedules that can work for any budget.
Are you ready to learn more about our Invisalign alternative in Jupiter? Contact our team and schedule a consultation today – we'll explain your options and develop a treatment plan that fits your budget perfectly!
SureSmile FAQs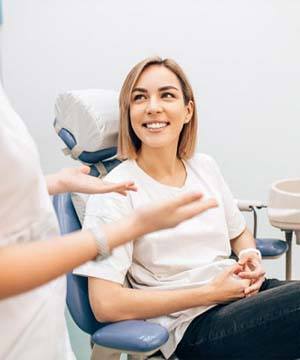 Are you ready to get started on straightening your smile the metal-free way? Even if you're beyond excited to begin, it's only natural to have a few questions first. We'll be more than happy to help you during your initial consultation , but in the meantime, we invite you to read the frequently asked questions below to see if your question has already been answered.
Does SureSmile Hurt?
Compared to traditional braces, most patients would agree that our Invisalign alternative in Jupiter is far more comfortable. The smooth plastic of the aligners shouldn't irritate the soft tissues in your mouth as easily as metal brackets and wires do.
That being said, any type of orthodontic treatment naturally comes with some degree of discomfort. Your teeth are being shifted, after all. When you first start wearing the aligners, or when you switch to a new set in the series, you may experience mild soreness or sensitivity. This is normal and is a sign that your treatment is working. Your discomfort should subside after a few days, but until then, we recommend using a cold compress or taking over-the-counter pain medication as needed.
Is SureSmile Cheaper Than Braces?
No two smiles are exactly alike, so the cost of orthodontic treatment – whether braces or an Invisalign alternative – can vary greatly based on multiple factors, including the severity of a patient's misalignment. In many cases, SureSmile tends to cost about the same as traditional braces, but variables such as your commitment to following treatment instructions can influence the final price.
SureSmile may have a reputation for being more expensive than braces because it's less likely to be eligible for insurance coverage. However, some plans partially cover the cost, and our team can help you verify how much coverage you qualify for. We can also help you explore your payment options, such as third-party financing through CareCredit.
Can You Eat with SureSmile?
One of the main benefits of SureSmile over metal braces is that it doesn't come with any dietary restrictions, as you can simply remove the aligners at mealtimes and snack times. However, you should always take out your trays before eating or drinking anything other than plain water. Eating with your trays in will not only chip, crack, or stain the plastic, but it also places needless pressure on your teeth. Additionally, remember to brush and floss after you eat but before you put the aligners back in your mouth; otherwise, bits of food could get trapped against your teeth and contribute to discoloration, bad breath, and tooth decay.
What Happens After SureSmile?
Once you've finished wearing your last set of aligners, your cosmetic dentist in Jupiter will need to verify that your teeth are in their desired positions. From there, they'll guide you on how to maintain your results, which will include wearing a retainer. Retainers are usually made from clear plastic, so they're not too different from the trays you were already used to wearing.
Be sure to wear your retainer as instructed to prevent your teeth from reverting back to their crooked state and undoing the work you spent on treatment. At first, you'll probably need to wear your retainer for 20-22 hours a day, but our dentists will let you know when you can start wearing it less often.