Dentures – Jupiter, FL
Restoring The Look & Function Of Your Smile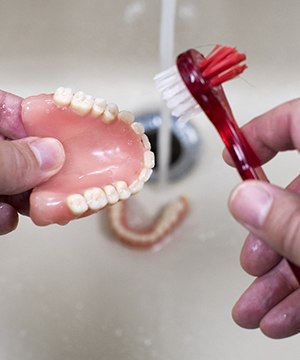 If you're missing most or all of your teeth, you're not alone. According to the American College of Prosthodontists, over 35 million people are missing all of their pearly whites. This issue can make it difficult to complete basic tasks like eating and speaking, wearing down on your self-confidence and daily quality of life. That's why, at Jupiter Implant and Cosmetic Dentistry, we offer natural-looking and highly functioning dentures. That way, you can regain your confidence and feel comfortable letting your smile show again.
Why Choose Jupiter Implant and Cosmetic Dentistry For Dentures?
Full Mouth Reconstructions
Dental Insurance Accepted
Experienced Restorative Dentist
Full Dentures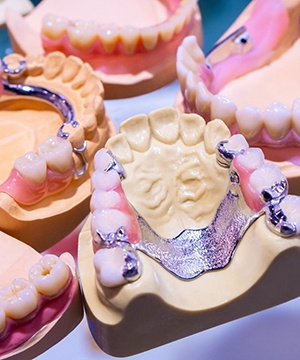 For patients who are missing an entire arch of teeth, we'll likely suggest getting full dentures in Jupiter. These consist of a set of custom-shaded artificial teeth that are secured to a gum-colored acrylic base. The foundation is specially designed to harness the power of natural suction and denture adhesive to stay in place so you can eat and speak with ease. Full dentures are also completely removable, making them easy to clean.
Our patients who are looking for a more permanent and durable tooth-replacement option also consider having their full dentures retained by dental implants, which are titanium posts that are fused with the jawbone.
Partial Dentures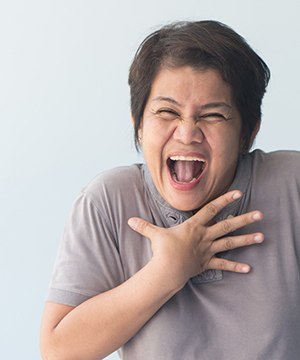 Our patients who are missing many teeth on an arch and who would like to preserve their remaining pearly whites can greatly benefit from receiving partial dentures. These are realistic-looking artificial teeth that are attached to a thin, gum colored acrylic base. They are held in place with a specially designed foundation made from either acrylic or metal. It's designed to discreetly fit around your remaining teeth and hold your denture in place without altering them.
Maintaining Your Dentures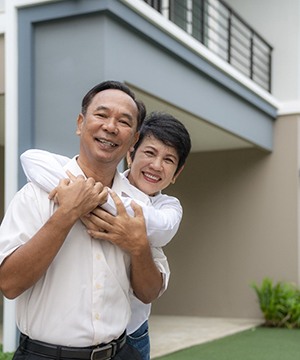 Proper denture maintenance is crucial in order to prevent infections or other oral health issues from arising. It's also a great way to make sure that your dentures have a long lifespan and continue looking like new! Here are a few routine denture care tips:
Wash your hands before handling your dentures.
Place a towel or rag on your bathroom counter while cleaning your dentures so they won't accidentally slip off and become damaged.
Take your dentures out before bed and store them in a glass of room temperature water.
Clean your dentures using a special denture brush and denture cleaner.
Keep up with routine oral hygiene.
If you have any questions about how to keep your dentures looking like new, don't hesitate to contact your dentist in Jupiter, Drs. Shaun or Amiee Vaughn. We'll be more than happy to make sure that you get the most out of your new smile!
Understanding the Cost of Dentures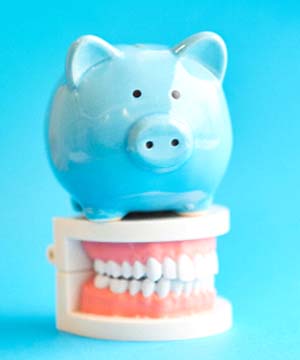 Because every person's mouth is unique, the cost of dentures in Jupiter can vary greatly from patient to patient. During an initial consultation with Dr. Shane or Dr. Amiee Vaughn , they will go over the different factors that will affect the price and provide an accurate cost estimate after conducting an oral exam. To learn more about what you can expect to pay for dentures before this first visit, keep reading below.
Factors That Affect the Cost of Dentures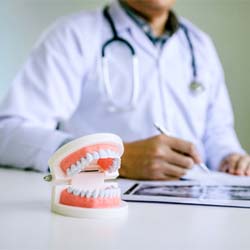 Three major factors that influence the cost of dentures:
Preparation – You may need to undergo gum disease therapy or get an extraction to be ready for dentures.
Number of Teeth – Full dentures typically cost more than partial dentures.
Materials – Dentures are usually made of porcelain or acrylic.
It can be tempting to shop around for the cheapest dentures. However, when it comes to replacing missing teeth, cheaper is usually not better. Low-cost dentures may not fit comfortably and may be more likely to break sooner. Just ask any denture dentist in Jupiter – quality is important for what goes in your mouth!
Are Implant Dentures More Expensive?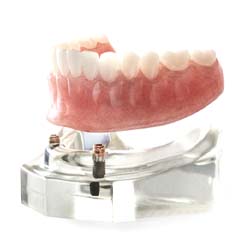 Yes, implant dentures are more expensive than traditional dentures. However, implant dentures offer a wide ranges of benefits that other restorations do not. As their name suggests, implant dentures are a row of false teeth that attach to dental implants. Implants integrate directly with the jawbone, which means that implant dentures never slip or shift. By anchoring in jawbone, implant dentures also restore greater chewing power and appear more lifelike that traditional dentures. In addition, dental implants can last for decades with proper care. Traditional dentures, meanwhile, must be replaced every five to seven years on average. Thanks to their long-lasting nature and other benefits, implant dentures are an investment that pays dividends over the long term.
Does Dental Insurance Cover Dentures?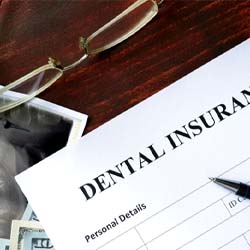 In most cases, dental insurance considers dentures in Jupiter to be a major procedure and covers around 50% of their cost. Every insurance plan is slightly different, so be sure to check with your provider and confirm your coverage before committing to dentures. If you need assistance, our experienced team will be happy to help you review your insurance policy. We always work to help patients get the most out of their insurance benefits and will even file claim paperwork on your behalf.
Other Options for Making Dentures Affordable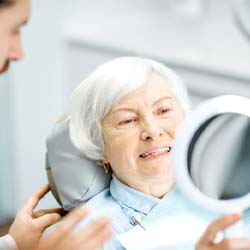 No insurance? No problem! There are plenty of ways to restore your smile without breaking the bank. At Jupiter Implant & Cosmetic Dentistry , we offer an In-House Dental Savings Plan to help uninsured and underinsured patients pay for their dental care. For one flat annual fee, you get all the preventive care you need for a year plus 15% off all other treatments. Best of all, when you enroll in our In-House Dental Savings Plan, there are no co-pays, no deductibles, and no hidden fees to worry about!
Want to break up the cost of your dentures into smaller monthly payments? You can do just that with flexible, low-to-no interest financing from CareCredit. A trusted partner, CareCredit offers a number of convenient plans with various payment schedules that can work for absolutely any budget. Ask our staff for more details !
You don't have to bust your budget to restore your smile. To learn more about the cost of dentures in Jupiter and different payment options, schedule a consultation at our office.
Denture FAQs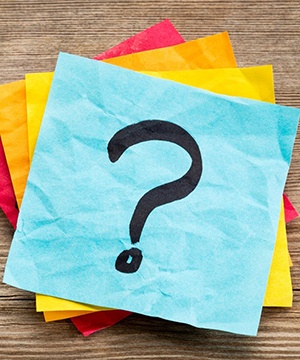 Are you ready to say goodbye to the gaps in your smile? If so, you're probably thinking about getting dentures in Jupiter. They're an excellent way to enjoy a complete, fully functioning bite once again! Of course, it's completely normal to have a few questions in mind before committing to the process. While the best way to get information is by calling our office, you can review our answers below to some frequently asked questions in the meantime.
How Long Will You Have to Wait to Get Dentures After Your Teeth Are Pulled?
On average, most patients have to wait about six to eight weeks after getting their teeth pulled to receive dentures. While that may seem like a long time, it's necessary to ensure that the gums heal properly and the oral appliances fit well. Also, it's worth noting that the exact amount will vary depending on the type of denture in question. Immediate dentures can be placed on the same day as an extraction. However, they may need replacement sooner than expected because the shape of the jawbone changes as the mouth heals. If you're getting implant dentures, you'll need to wait between four to six months for the implant to fuse with the surrounding bone tissue via osseointegration.
Can I Sleep with My Dentures?
When you first get dentures in Jupiter, your dentist will ask you to keep them in your mouth for 24 hours, including sleep. After that, it's strongly recommended that you take them out every night before bed. Since wearing dentures restricts the circulation in your gums, leaving them in for too long can lead to soft tissue irritation and speed up ridge resorption. Also, sleeping with dentures is associated with poor oral hygiene and a higher risk of pneumonia.
Will It Hurt to Get Dentures?
If you need oral surgery before getting dentures, you'll likely experience some discomfort following your procedure. Luckily, you can easily manage your symptoms by diligently following your dentist's aftercare instructions. You should take prescribed or over-the-counter pain medication as directed and use a cold compress to alleviate your discomfort. Once you get your oral appliances, it may take a while to adjust to wearing them. While the adjustment process can be uncomfortable, it should resolve within a few months. If your pain persists or worsens, you should contact our office right away for assistance.
Is It Hard to Talk with Dentures?
Initially, you may find it difficult to speak with dentures because you're so used to talking with your natural teeth. The good news is that any lisp or impediment you develop is temporary and should go away with practice. Here are some steps you can take to speed up the process:
Read magazines or books aloud
Have more conversations with loved ones
Repeat difficult-to-pronounce words.
If needed, you can use denture adhesive for some extra stability to help you out while you're adjusting.