Full & Partial Dentures – Jupiter, FL
Restoring The Look & Function Of Your Smile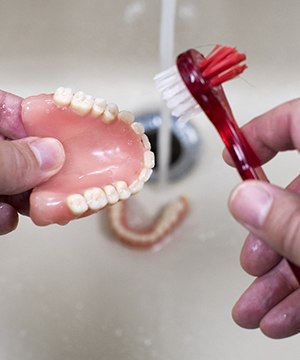 If you're missing most or all of your teeth, you're not alone. According to the American College of Prosthodontists, over 35 million people are missing all of their pearly whites. This issue can make it difficult to complete basic tasks like eating and speaking, wearing down on your self-confidence and daily quality of life. That's why, at Jupiter Implant and Cosmetic Dentistry, we offer natural-looking and highly functioning full and partial dentures. That way, you can regain your confidence and feel comfortable letting your smile show again.
Why Choose Jupiter Implant and Cosmetic Dentistry For Full & Partial Dentures?
Full Mouth Reconstructions
Dental Insurance Accepted
Experienced Restorative Dentist
Full Dentures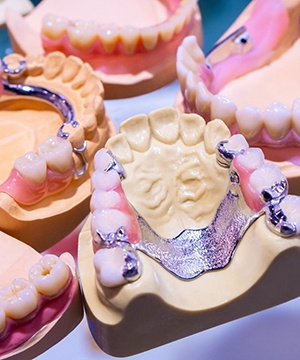 For patients who are missing an entire arch of teeth, we'll likely suggest getting full dentures in Jupiter. These consist of a set of custom-shaded artificial teeth that are secured to a gum-colored acrylic base. The foundation is specially designed to harness the power of natural suction and denture adhesive to stay in place so you can eat and speak with ease. Full dentures are also completely removable, making them easy to clean.
Our patients who are looking for a more permanent and durable tooth-replacement option also consider having their full dentures retained by dental implants, which are titanium posts that are fused with the jawbone.
Partial Dentures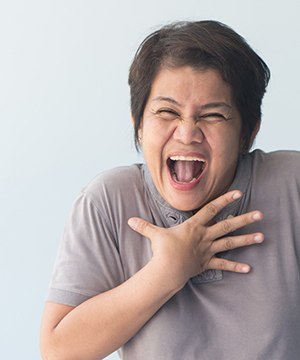 Our patients who are missing many teeth on an arch and who would like to preserve their remaining pearly whites can greatly benefit from receiving partial dentures. These are realistic-looking artificial teeth that are attached to a thin, gum colored acrylic base. They are held in place with a specially designed foundation made from either acrylic or metal. It's designed to discreetly fit around your remaining teeth and hold your denture in place without altering them.
Maintaining Your Dentures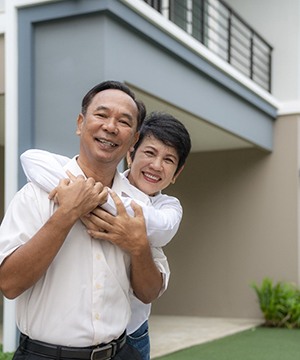 Proper denture maintenance is crucial in order to prevent infections or other oral health issues from arising. It's also a great way to make sure that your dentures have a long lifespan and continue looking like new! Here are a few routine denture care tips:
Wash your hands before handling your dentures.
Place a towel or rag on your bathroom counter while cleaning your dentures so they won't accidentally slip off and become damaged.
Take your dentures out before bed and store them in a glass of room temperature water.
Clean your dentures using a special denture brush and denture cleaner.
Keep up with routine oral hygiene.
If you have any questions about how to keep your dentures looking like new, don't hesitate to contact your dentist in Jupiter, Drs. Shaun or Amiee Vaughn. We'll be more than happy to make sure that you get the most out of your new smile!