Tooth Extractions – Jupiter, FL
Gentle & Compassionate Tooth Removal
Using the latest restorative dentistry techniques, the team at Jupiter Implant & Cosmetic Dentistry is usually able to repair and save even the most damaged teeth, but unfortunately, we're not miracle workers. Sometimes, a tooth can become so broken or decayed that the only viable solution is to remove it. We only recommend an extraction after exhausting all other treatment options, and when a patient needs one, we take every step to ensure the entire process is as smooth and comfortable as possible.
Why Choose Jupiter Implant & Cosmetic Dentistry for Tooth Extractions?
Multiple Dental Sedation Options
State-of-the-Art Dental Technology
Highly Experienced Dentists
Reasons Why Tooth Extractions Are Necessary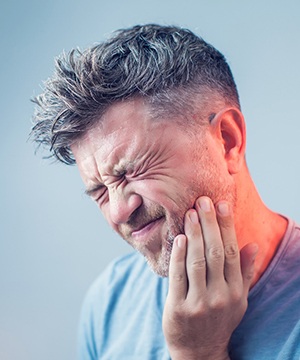 Use current Why Someone Might Need a Tooth Extraction image
Some common reasons for tooth extractions in Jupiter include:
A tooth has a cavity so large that it can't be fixed with a filling or crown.
The enamel is so damaged by physical trauma that it is unable to support a restoration.
Gum disease has weakened the surrounding gum and jawbone needed to support a tooth.
Room needs to be created in the mouth to fit a new denture or orthodontia.
A weakened tooth is soon going to be replaced with a much stronger dental implant.
A wisdom tooth is impacted and is threatening the health of nearby teeth.
The Process of Removing a Tooth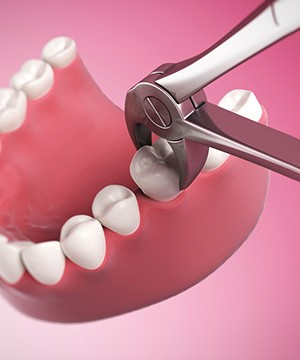 There are two types of tooth extractions. During a simple extraction, we use a tool called an elevator to lift the tooth out of its socket. Then, your dentist in Jupiter grips the tooth and gently removes it from its place. During a surgical extraction, we might have to break the tooth into pieces or create an incision in the gums. Whichever type of extraction you undergo, you can be sure that we will do all we can to make you comfortable throughout your procedure.
Following an extraction, we may strongly recommend that you request a follow-up appointment so you can pursue tooth replacement. Replacing a lost tooth can prevent future oral health problems and preserve your ability to smile with confidence and eat a wide variety of foods.
Tooth Extraction Aftercare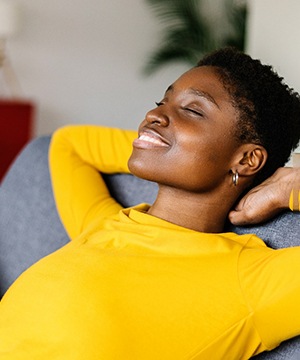 Here are some basic guidelines that can help patients enjoy a smooth recovery following a tooth extraction:
Take any medications as recommended by your dentist.
Do not smoke or drink out of a straw. These precautions can reduce your risk of dry socket, a painful complication.
Avoid crunchy and hard foods. Instead, eat soft or no-chew items.
Prop your head up on pillows while you are resting.
Avoid strenuous physical activity for at least a few days.
After the first 24 hours, rinse your mouth with warm saltwater to calm inflammation and encourage healing.
Give us a call if you experience any severe pain or signs of infection.
Tooth Extraction FAQs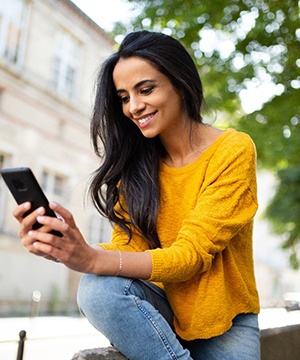 Our team at Jupiter Implant & Cosmetic Dentistry is here to answer any questions you have about the extraction process. The decision to remove a tooth is not one to be made lightly, so we want you to know as much as possible about the procedure and the various steps involved. The questions listed below are often asked by patients who need an extraction. Call us if you don't see the information you're looking for below or on the rest of this page.
How do I prepare for a tooth extraction?
Depending on the situation, we may give you some instructions to prepare for the appointment. Patients with weaker immune systems may need to take antibiotics to protect themselves from infection during the recovery process. Also, if you catch a cold or suffer gastrointestinal distress of any kind, that could have an impact on the treatment plan, so let us know as soon as possible.
How much pain is normal following a tooth extraction?
During the first 24 hours, you'll experience some swelling and bleeding as well as mild discomfort. Take painkillers if you need to, and apply an ice pack to the area at regular intervals to keep the swelling down. The pain after a tooth extraction should be manageable and fades over time. It's not normal for the pain to become more severe or to last a particularly long time; call us right away if this happens. You should also let us know if you experience fever, nausea, vomiting, and other possible signs of an infection.
What should I do about the gap in my smile?
Even if no one else can see the space left by the empty tooth, your ability to speak and chew will still be affected, and your jawbone will start to break down over time. And if the gap does happen to be visible, then it can be much harder to smile with confidence. Dental implants are often the best choice for replacing teeth due to their stability and the way they can contribute to a strong, healthy jawbone, but we'll be sure to help you explore all of your options once the time comes.
Will my dental insurance cover the cost of a tooth extraction?
At Jupiter Implant & Cosmetic Dentistry, we're proud to be in-network with most major PPO plans and offer an in-house savings plan to help keep the cost of dental services low for you. It's important to note that every plan differs, so the only way to find out whether yours will cover a tooth extraction is to speak with them directly. That being said, it's common for plans to cover at least a portion of the cost of the procedure.