Tooth Extractions – Jupiter, FL
Tooth Extractions for Jupiter Families
Using the latest restorative dentistry techniques, the team at Jupiter Implant & Cosmetic Dentistry is usually able to repair and save even the most damaged teeth, but unfortunately, we're not miracle workers. Sometimes, a tooth can become so broken or decayed that the only viable solution is to remove it. We only use an extraction after exhausting all other treatment options, and when a patient needs one, we take every step to ensure the entire process is as smooth and comfortable as possible.
Why Choose Our Dental Office for Tooth Extractions?
Multiple sedation options available, including on-site IV sedation
Patient comfort is our top priority
State-of-the-art facility filled with the latest dental technology
Why Someone Might Need a Tooth Extraction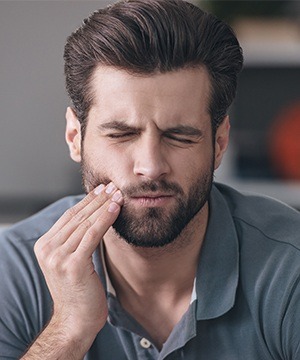 A tooth has a cavity so large that it can't be fixed with a filling or crown.
The enamel is so damaged by physical trauma that it is unable to support a restoration.
Gum disease has weakened the surrounding gum and jawbone needed to support a tooth.
Room needs to be created in the mouth to fit a new denture.
A weakened tooth is being replaced with a much stronger dental implant.
A baby tooth refuses to fall out on its own and is blocking the path of an adult tooth.