Tooth Extractions – Jupiter, FL
Tooth Extractions for Jupiter Families
Using the latest restorative dentistry techniques, the team at Jupiter Implant & Cosmetic Dentistry is usually able to repair and save even the most damaged teeth, but unfortunately, we're not miracle workers. Sometimes, a tooth can become so broken or decayed that the only viable solution is to remove it. We only use an extraction after exhausting all other treatment options, and when a patient needs one, we take every step to ensure the entire process is as smooth and comfortable as possible.
Why Choose Our Dental Office for Tooth Extractions?
Multiple sedation options available, including on-site IV sedation
Patient comfort is our top priority
State-of-the-art facility filled with the latest dental technology
Why Someone Might Need a Tooth Extraction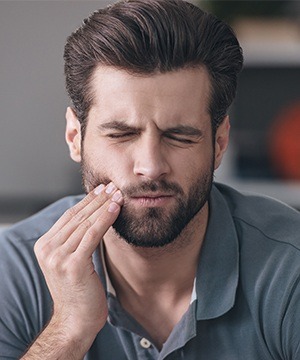 A tooth has a cavity so large that it can't be fixed with a filling or crown.
The enamel is so damaged by physical trauma that it is unable to support a restoration.
Gum disease has weakened the surrounding gum and jawbone needed to support a tooth.
Room needs to be created in the mouth to fit a new denture.
A weakened tooth is being replaced with a much stronger dental implant.
A baby tooth refuses to fall out on its own and is blocking the path of an adult tooth.
Tooth Extraction FAQs
Our team at Jupiter Implant & Cosmetic Dentistry is here to answer any questions you have about the extraction process. The decision to remove a tooth is not one to be made lightly, so we want you to know as much as possible about the procedure and the various steps involved. The questions listed below are often asked by patients who need an extraction. Call us if you don't see the information you're looking for below or on the rest of this page.
What is the Extraction Procedure Like?
First of all, you should know that the process will involve little to no discomfort. The area around the tooth will be entirely numbed so that you won't feel anything during the treatment itself. As for the actual extraction, the process for removing teeth that have fully erupted is actually quite simple. The tooth is loosened with an instrument called an elevator, and forceps are used to gently rock it back and forth until the ligaments holding the tooth in place are broken. Gauze is then applied to control any bleeding that occurs.
A surgical approach might be required if the tooth is impacted or has broken off beneath the gum line. Any tissue preventing us from accessing the tooth needs to be removed. Also, the tooth might have to be divided into sections in order to be removed smoothly.
How Do I Prepare for a Tooth Extraction?
Depending on the situation, we may give you some instructions to prepare for the appointment. Patients with weaker immune systems may need to take antibiotics to protect themselves from infection during the recovery process. Also, if you catch a cold or suffer gastrointestinal distress of any kind, that could have an impact on the treatment plan, so let us know as soon as possible.
How Much Pain is Normal Following a Tooth Extraction?
During the first 24 hours, you'll experience some swelling and bleeding as well as mild discomfort. Take painkillers if you need to, and apply an ice pack to the area at regular intervals to keep the swelling down. The pain after a tooth extraction should be manageable and fades over time. It's not normal for the pain to become more severe or to last a particularly long time; call us right away if this happens. You should also let us know if you experience fever, nausea, vomiting, and other possible signs of an infection.
What Should I Do About the Gap in My Smile?
Even if no one else can see the space left by the empty tooth, your ability to speak and chew will still be affected, and your jawbone will start to break down over time. And if the gap does happen to be visible, then it can be much harder to smile with confidence. Dental implants are often the best choice for replacing teeth due to their stability and the way they can contribute to a strong, healthy jawbone, but we'll be sure to help you explore all of your options once the time comes.