Dental Implants – Jupiter, FL
Tooth Replacement for the 21st Century
In the past, if you had a missing tooth, a dentist would give you a restoration that only brought back the dental crown or visible part of the tooth. While this might have looked great, it was inevitably weaker than your real tooth, and you would likely have to get it replaced in less than a decade. Implants fix this problem by replacing both the crown and the root located below the gum line. As a result, a patient basically gets their real tooth back and enjoys the very best when it comes to both aesthetics and function. At Jupiter Implant & Cosmetic dentistry, we can use this state-of-the-art treatment to replace any number of teeth for a lifetime, and you can get started rebuilding your smile by calling us today to schedule a consultation.
Why Choose Our Dental Office for Dental Implants?
Entire procedure performed by experts under one roof
Can make a shifting denture rock-solid & reliable
Restorations custom-designed for each patient
Benefits of Dental Implants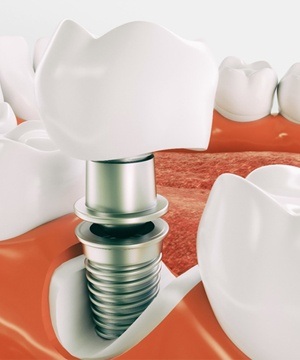 Next-Level Replacement: With a dental implant, a small titanium post is placed directly into the jawbone to mimic the root of a tooth, and this is used to support a new crown, bridge, or denture. Thanks to this strong foundation, patients can eat pretty much whatever they like without having to worry about annoying slippage or breakage.
No One Will Notice: All of our implants are topped with restorations personally designed for each patient using natural-looking dental porcelain. In the end, only you and your dentist will know which teeth have been restored.
Lifelong Benefits: In addition to bringing back missing teeth, implants have another perk—they protect the jawbone from deterioration. The jaw typically starts to shrink after tooth loss, but the new roots from implants help restore blood flow to the area so a patient will maintain a more youthful facial shape as the years go by.
Built to Last: With minimal maintenance and regular dental visits, a dental implant can be expected to last for decades on end, often for the rest of a patient's life.
Indications for Dental Implants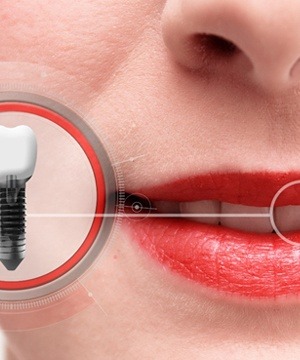 A patient needs just 3 basic things in order to be a good candidate for dental implants: decent oral health, stable overall health, and a thick enough jawbone to support the new roots. Once all of these conditions have been met (we can help if you're lacking any), our team can offer you one of the following restorative options:
Missing Single Tooth
A dental implant root and an all-porcelain crown can be placed between two healthy teeth without altering them at all, making this a much more conservative solution compared to a traditional bridge.
Missing Multiple Teeth
Implant crowns like those mentioned above can be positioned throughout the mouth, and even a partial denture can be secured using a small number of implants. If a patient has a few missing teeth in a row, just 2 implants are all that's needed to support a strong and reliable bridge.
Missing All Teeth
If you're missing most of your teeth or are just sick and tired of dealing with an unstable denture, dental implants may be the solution your smile needs. Using just 4-6 roots strategically located along the jawbone, we can provide you with a denture you can trust to always stay in place and last for decades.
Start to Finish Convenience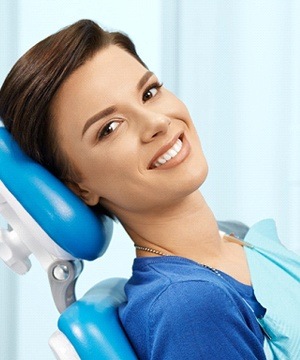 Our dental office literally has "implant" in its name, and that's because unlike other offices, we won't send you running between different doctors to complete the dental implant procedure. Both Dr. Vaughn and Dr. Vaughn are able to perform the entire procedure themselves thanks to their advanced training and experience. From your initial consultation all the way until you leave our office with your new smile, you'll work with the same expert team you know and trust, saving you time, money, and stress every step of the way.
Cost of Dental Implants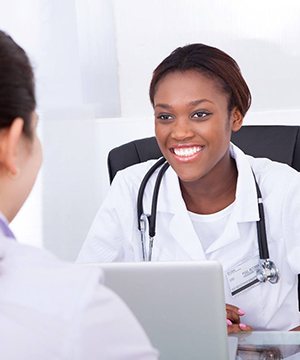 Because dental implants are so versatile, the cost of the treatment can vary quite a bit from patient to patient depending on their particular situation. While implants do tend to cost more upfront compared to traditional bridges and dentures, they are an investment that will last for decades, and they don't require the periodic maintenance other restorations typically do. Over time, implant patients actually tend to save money because their new teeth only need the same care as their real ones.
How Do Dental Implants Work?
Essentially, a dental implant works similarly to one of your natural teeth that has a root and a crown. The implant—which is a small post that is surgically placed in your jawbone—is the new root. As you heal over several months after surgery, the implant and surrounding bone tissue fuse together to form a solid foundation. Once this happens, an abutment is attached to the implant to hold a new tooth restoration in place.