Dental Implants — Jupiter, FL
Tooth Replacement for the 21st Century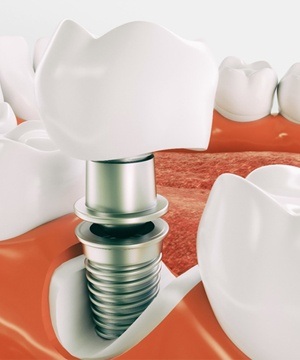 In the past, if you had a missing tooth, a dentist would give you a restoration that only brought back the dental crown or visible part of the tooth. While this might have looked great, it was inevitably weaker than your real tooth, and you would likely have to get it replaced in less than a decade. Dental implants fix this problem by replacing both the crown and the root located below the gum line. As a result, a patient basically gets their real tooth back and enjoys the very best when it comes to both aesthetics and function. At Jupiter Implant & Cosmetic Dentistry, we can use this state-of-the-art treatment to replace any number of teeth for a lifetime, and you can get started rebuilding your smile by calling us today to schedule a consultation.
Why Choose Jupiter Implant and Cosmetic Dentistry for Dental Implants?
Entire Dental Procedure Performed by Experts In-House
Make Your Dental Prosthesis More Solid and Reliable
Dental Restorations Custom-Designed for Every Patient
What Are Dental Implants?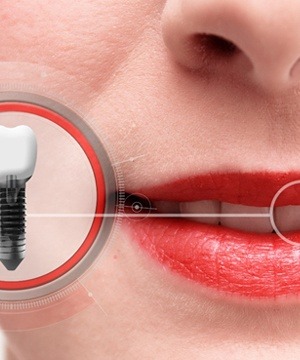 Dental implants are a form of tooth replacement that has quickly become the gold standard for addressing tooth loss. It's important to keep in mind that they are by far the best long-term option because of the surgical aspects that go into treatment. Once the implant is placed inside of the jaw and a restoration is attached, you can expect lasting benefits that simply aren't possible with bridges and dentures because they don't go far enough. For example, the implant's ability to stimulate the bone keeps the jaw strong and retains more bone structure, which offers many benefits to your short- and long-term oral health and quality of life.
Start-to-Finish Convenience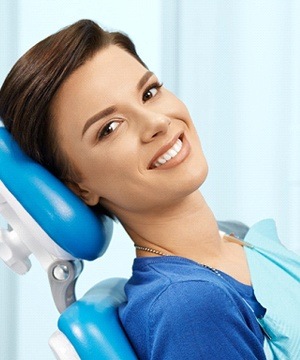 Our dental office literally has "implant" in its name, and that's because unlike other offices, we won't send you running between different doctors to complete the dental implant procedure. Doctors Shane and Amiee Vaughn are able to perform the entire procedure themselves thanks to their advanced training and experience. From your initial consultation all the way until you leave our office with your new smile, you'll work with the same expert team you know and trust, saving you time, money, and stress every step of the way.
The 4 Step Dental Implant Process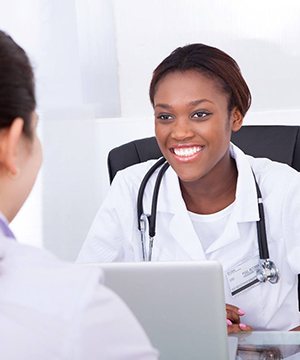 Understanding how dental implants work is rather straightforward. That's because they are built so much like your natural teeth. First, a dentist in Jupiter sets the implant post in your jawbone. This replaces the root of your missing tooth. Then, a small abutment connects the implant to the tooth restoration. Once the post, abutment and restoration are in place, you have a lifelike tooth replacement to complete your smile. Continue reading for more details about the dental implant process.
Initial Consultation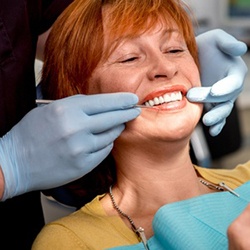 The dental implant process begins with a consultation between you and Dr. Vaughn. Together you will discuss different tooth replacement options and what you can expect if you choose dental implants. Implant surgery and recovery will be explained, and our front office team will prepare an estimate of the cost.
Next, a treatment plan is developed based on a thorough oral examination. Dr. Vaughn will examine your gums and the teeth surrounding the space in your smile as well as your facial features and jaw structure.
Dental Implant Surgery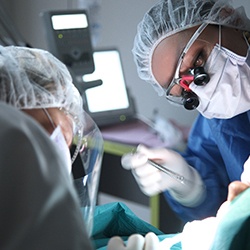 While dental implant surgery may sound intimidating, most of our patients are pleasantly surprised by how easy and stress-free it is. First, a local anesthetic is administered to numb the site. You may feel some pressure, but there won't be pain. An incision in your gums reveals the bone beneath your missing tooth. Then, a small section of bone and the implant is surgically inserted. Over the course of the next few months your gums will heal.
Osseointegration & Abutment Placement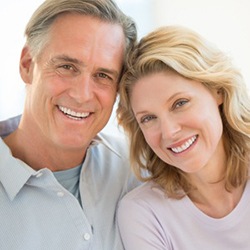 As your gums heal, a lot is happening below the surface. The implant and surrounding bone tissue bond in a process called osseointegration. The implant actually becomes part of your jawbone just like a natural tooth root. This strong connection ensures a solid foundation for your new tooth.
After a few months when the implant and bone have integrated, an abutment is attached. This small but important piece holds the implant down in place and connects the final tooth restoration to the implanted post.
Delivery of Final Restoration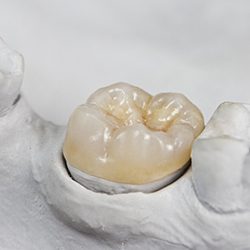 The finishing touch is placement of the restoration. The extent of your tooth loss will determine the kind of replacement you need. For a single missing tooth, you'll have a porcelain crown. If you have several missing teeth, then a bridge can be attached to two to four implants. And for an entire arch of missing teeth, a full denture can be connected to several implants that are strategically positioned along your jaw.
Benefits of Dental Implants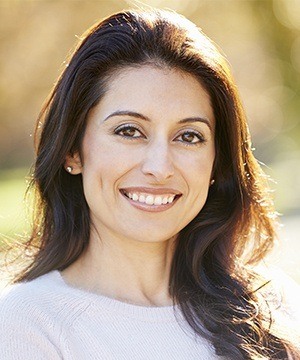 Next-Level Replacement: With a dental implant, a small titanium post is placed directly into the jawbone to mimic the root of a tooth, and this is used to support a new crown, bridge, or denture. Thanks to this strong foundation, patients can eat pretty much whatever they like without having to worry about annoying slippage or breakage.
No One Will Notice: All of our implants are topped with restorations personally designed for each patient using natural-looking dental porcelain. In the end, only you and your dentist will know which teeth have been restored.
Lifelong Benefits: In addition to bringing back missing teeth, implants have another perk—they protect the jawbone from deterioration. The jaw typically starts to shrink after tooth loss, but the new roots from implants help restore blood flow to the area so a patient will maintain a more youthful facial shape as the years go by.
Built to Last: With minimal maintenance and regular dental visits, a dental implant can be expected to last for decades on end, often for the rest of a patient's life.
Who Dental Implants Can Help
A patient needs just 3 basic things in order to be a good candidate for dental implants: decent oral health, stable overall health, and a thick enough jawbone to support the new roots. Once all of these conditions have been met (we can help if you're lacking any), our team can offer you one of the following restorative options:
Missing One Tooth
A dental implant root and an all-porcelain crown can be placed between two healthy teeth without altering them at all, making this a much more conservative solution compared to a traditional bridge.
Missing Multiple Teeth
Implant crowns like those mentioned above can be positioned throughout the mouth, and even a partial denture can be secured using a small number of implants. If a patient has a few missing teeth in a row, just 2 implants are all that's needed to support a strong and reliable bridge.
Missing All Teeth
If you're missing most of your teeth or are just sick and tired of dealing with an unstable denture, dental implants may be the solution your smile needs. Using just 4-6 implants strategically located along the jawbone, we can provide you with a denture you can trust to always stay in place and last for decades.
Learn More About Implant Dentures
Understanding the Cost of Dental Implants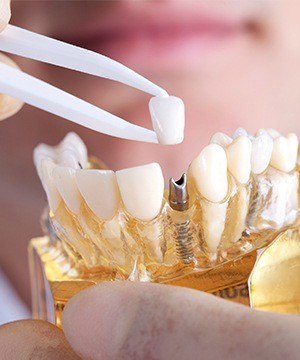 Any time you have a missing tooth to replace, you'll want to consider getting a tooth-replacement solution like dental implants. Naturally, one of the first things you'll need to figure out is how much you'll need to pay for the treatment. Since every patient is different, you can't expect a universal price, However, if you schedule a consultation at Jupiter Implant and Cosmetic Dentistry, Drs. Shane and Aimee Vaughn can help you form an estimate for the cost of dental implants.
Preliminary Treatments & Dental Implant Surgery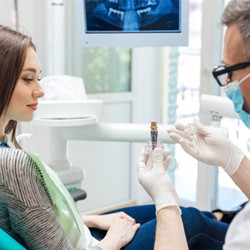 For your dental implants to work, we'll have to make sure that your gums are healthy and that you have sufficient jawbone density to support the metal posts. If you don't currently have good oral health or your bone tissue doesn't have enough mass, we'll likely need to perform preliminary treatments to help you be ready, such as gum disease therapy or a bone graft. These services will increase the overall price of your implants, but they typically receive coverage from insurance.
The placement surgery itself will also affect the entire price of your treatment. This may involve the number of teeth that need replacing, the location where the implants will need to be positioned, and the kind of sedation you'll undergo during your visit. Fortunately, you won't have to worry about the additional costs of visiting an outside specialist, as we can perform your entire procedure in-office.
The Parts of Your Dental Implant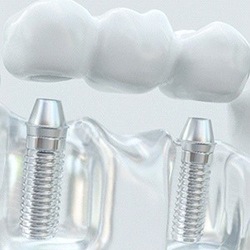 "The overall treatment cost will also account for various factors regarding the implants themselves, such as:
The number of implants – The more metal posts you require, the higher the cost of the procedure.
The kind of restoration – The cost can be affected by the type of restoration you're getting, as dental crowns will be less expensive than bridges or dentures.
Material or size – Dental implants can come in different shapes, sizes, and materials, which will alter the upfront cost.
Brand of dental implant – Multiple companies offer implants. Our team will only work with those who provide the best quality products to ensure that your results are successful.
How Dental Implants Pay For Themselves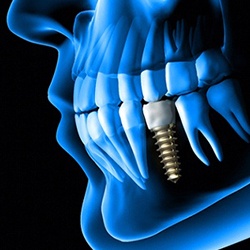 When considering the cost of your implants, remember that they'll benefit your smile for many years to come. Implant posts are made of highly durable titanium and require little maintenance. Also, unlike other restorations, they can last for decades or even a lifetime, meaning you won't have to worry about paying for a replacement. Implants can also prevent your jawbone from deteriorating and moving your natural teeth out of alignment, reducing your need for more extensive and costly treatment in the future.
Does My Dental Insurance Cover Dental Implants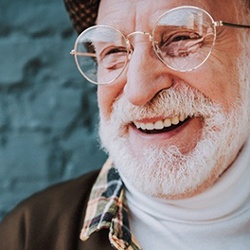 In most cases, your insurance carrier won't cover dental implants, but they might help with some related procedures (for example, if you end up needing periodontal therapy). It's a good idea to review your plan to see how much your insurance can help offset the cost. You can also consult our knowledgeable staff, as we'll be more than happy to help you navigate your policy while making the most of your benefits.
Making Dental Implants Affordable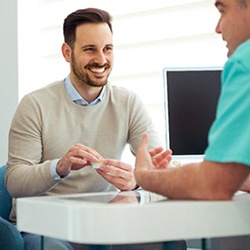 If you don't have insurance, it doesn't mean you'll have to automatically pay the entire cost of the treatment out-of-pocket. We offer alternative financing options that can help your chosen procedure work for your budget. Our practice has an in-house membership plan that can give you significant discounts on all services, including dental implants, for just one small annual fee. We're also partnered with third-party financier CareCredit, which has low-to-no-interest plans that can break up the overall cost of your treatment into monthly installments to help you save money!
Dental implants Post-Op Instructions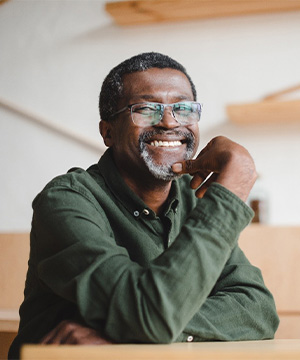 Our team at Jupiter Implant and Cosmetic Dentistry is able to complete your dental implant procedure in the comfort of our practice from start-to-finish. This means you'll be able to save yourself time and money, as you won't have to travel anywhere else to complete your treatment. Once we've finished your procedure, our team will give you certain guidelines to follow to make your recovery period as smooth as possible. To help you know what to expect during your healing, we've provided you with several dental implant post-op instructions in Jupiter!
What To Do Directly After Dental Implant Surgery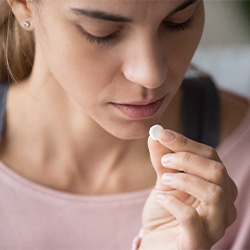 The most important factor for a successful dental implant placement is to take proper care of the blood clot that will form after your surgery. You'll need to ensure not to touch or disturb your gums, that way they can heal around the metal post. Here are a few things you should avoid:
Drinking from a straw.
Smoking or chewing tobacco.
Placing your tongue or fingers on or near the implant site.
Common Side Effects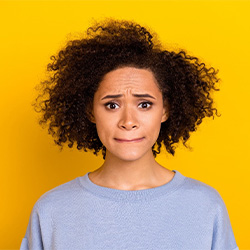 It can be difficult to understand normal symptoms from concerning ones if you've never undergone an oral surgery. While you may feel mild discomfort or soreness for the first few days, be sure to give us a call if it persists or worsens. Here are several common side-effects you can expect after your procedure:
Minor discomfort, which can be relieved with over-the-counter or prescribed medications.
Swelling in the gums that can last for more than a week. This can be alleviated by placing a cold compress on the outside of the mouth.
Intermittent bleeding, which can be managed by applying gentle pressure with a gauze on the surgical site.
Diet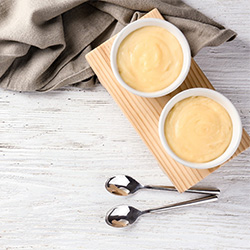 After your procedure, you'll need to stick to soft foods for a few days, as to avoid interfering with the blood clot. Your meals can include:
Pudding
Cold soup
Yogurt
Ice cream
Scrambled eggs
Mashed potatoes
Pasta
Health & Oral Hygiene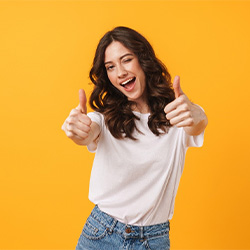 By maintaining a proper oral hygiene, you can ensure your dental implants can bond with your jawbone successfully while also avoiding bacteria and infection. Try practicing the following health tips:
Brush your teeth like normal, but be careful and gentle when scrubbing near your implant site.
Rinse with salt water 2-3 times a day, especially after your meals. Instead of spitting out the water, let it pour from your mouth into the sink.
Keep away from mouthwash containing alcohol, as this can cause discomfort.
What To Do After Your New Teeth Are Attached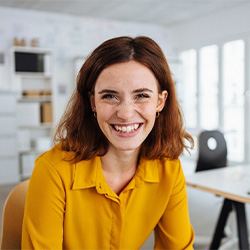 After you've recovered and your dental implants have successfully fused with your jawbone, we'll be able to finally place your restoration. You may feel mild sensitivity in your gums, but this can be easily managed with pain relievers. If you do notice any bleeding or swelling after we attach your restoration, be sure to let us know right away so we can address it. Other than that, you'll be able to fully enjoy your restored smile!
Dental Implant FAQs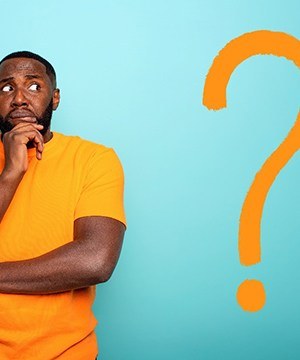 Restoring your smile with one or more dental implants is a big decision. We want you to be 100% confident in whatever choice you make here at Jupiter Implant and Cosmetic Dentistry. That's why we've gathered a few of the most common questions we get about this state-of-the-art tooth replacement option below. If you don't see the answer you're looking for, give us a call and we'll be more than happy to help!
Do I brush my dental implant like a natural tooth?
Not only will your new dental implant look and feel just like a natural tooth, but it can be cared for just as easily as well! It's durable foundation and resilient materials allow it to withstand regular brushing and flossing, so you can easily keep it clean and healthy. Remember, even though your dental implant can't develop a cavity, it's still essential that you practice great oral hygiene. Regularly clearing away plaque and bacteria will keep your natural teeth healthy and protect the supportive tissues that help hold your dental implant in place.
How long does it take to get dental implants?
To form a solid foundation in your mouth, your dental implant will need to undergo osseointegration once it has been placed. During this process, the small titanium post in your jawbone will fuse with the surrounding bone tissue. This unique step is what gives dental implants their unmatched stability and longevity, but it takes some time. Typically, your mouth will need to heal for 3 to 6 months before we can attach the abutment and final restoration. While this may seem like a long time, the incredible results are well worth the wait!
Does getting dental implants hurt?
Thanks to modern pain management techniques and advancements in sedation dentistry, most patients report feeling hardly any discomfort during their dental implant placement. Drs. Shane and Aimee Vaughn offer a variety of safe sedation options that will keep you comfortable throughout your entire treatment. It's natural to experience some slight soreness and swelling for a few days after your surgery, but we'll prescribe pain medication or recommend over-the-counter pain relievers to minimize any discomfort.
Maintaining & Caring For Your Dental Implants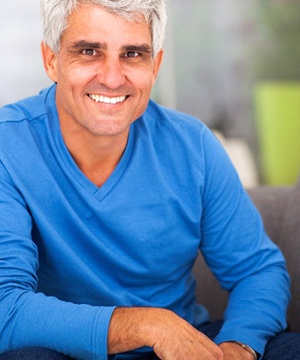 One of the main advantages of dental implants is that they have a success rate of 95% even after 10 years. That said, there is still a chance they can fail or get damaged. To get the most out of your implants, it's important to know how to maintain them. Read on to learn some simple yet effective tips for dental implant care in Jupiter.
Make At-Home Oral Healthcare a Priority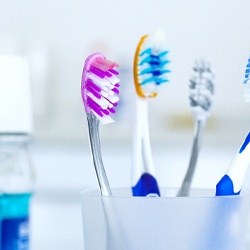 Even though your dental implants themselves cannot get cavities, it's still integral to care for your smile. Common oral health problems like gum disease and infection can cause your implant to fail. To protect yourself from this, you should maintain a good at-home oral healthcare routine. A great benefit is that implants can be cared for similar to your natural teeth. Brush twice a day and floss once a day to clean away pesky plaque and bacteria that can cause problems for your implants. You can also use a nonalcoholic mouthwash to clean areas of your mouth that are difficult to reach with brushing and flossing.
Eat a Healthy Diet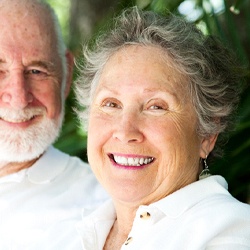 Part of caring for your smile is watching the foods that you eat. The good news is that dental implants allow you to eat virtually anything you want, however you should do your best to avoid foods that are extra sugary, hard, or acidic. Hard candy, taffy, and other items can damage your dental implants if you're not careful. Instead, try to eat foods rich in calcium and Vitamin C to keep your remaining teeth and jawbone healthy and strong.
Break Bad Habits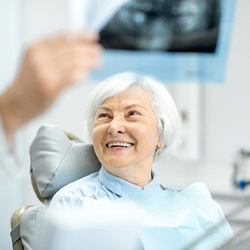 Even with the high success rate of dental implants, you should still be careful to avoid bad habits. Chewing on ice cubes, pens, or any non-food items can quickly damage your smile. That's why you should only use your teeth for chewing, speaking, and smiling. Additionally, avoid bad habits like smoking and tobacco use. Tobacco slows down healing and promotes infection, which is why cigarette use is one of the most common causes of implant failure.
Protect Your Dental Implants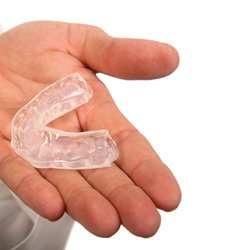 If you play sports or participate in physical activity, you must wear a mouthguard to protect your dental implants. We offer custom made oral appliances that reduce the risk of dental damage, plus they are comfortable to wear. Additionally, those who suffer from bruxism (teeth grinding) should wear a nightguard to prevent unnecessary wear on their implant restorations. Over time, teeth grinding and the pressure it causes can weaken dental implants and break restorations.
Schedule Regular Dental Checkups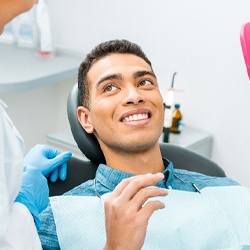 Checkups and cleanings become even more important once you get dental implants. These visits give Drs. Vaughn a chance to prevent and detect potential problems with your implants before they get too severe. Our trained hygienists will also remove tough plaque and tartar that you couldn't clean away on your own. This is a great opportunity to ask us any questions you may have about caring for your dental implants.