Cosmetic Dentistry – Jupiter, FL
The Home of Your Perfect Smile
Creating timelessly beautiful smiles is our dental office's specialty, and that's why we're confident enough to literally put "Cosmetic Dentistry" right in our name. If you're looking to get whiter, straighter, and overall better looking teeth, we're the only place you need to visit in Jupiter. We'll work with you to help you design your perfect look, and using our years of expertise, we'll turn it into a gorgeous reality right before your eyes. The process will be simple, but the results will be stunning, and your only regret will be not coming to see us sooner. To get started, contact us today to schedule a consultation.
Why Choose Our Dental Office for Cosmetic Dentistry?
Get everything from a minor touch-up to a dramatic makeover
Invisalign: Orthodontic treatment without brackets & wires
Botox & Juvederm: Make wrinkles disappear in just 10 minutes
Porcelain Veneers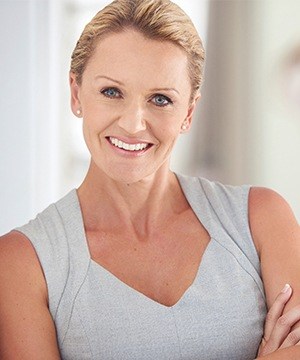 Want a smile just like those perfect ones you see on TV? If so, now you can get the exact same treatment as those actors right here in Jupiter. Eggshell thin ceramic coverings are bonded to the front of the teeth, and with them, we can make stains, chips, cracks, and gaps all disappear behind a pristine white smile. They are custom-designed and specially-made for every patient, and you can get just one or an entire set in two easy appointments.
Learn More About Porcelain Veneers
Metal-Free Dental Restorations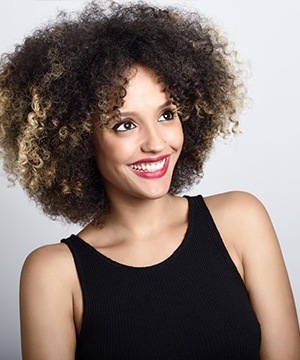 Your front teeth serve two important functions: they help you eat, and they are what create your smile. When one has developed decay or damage, it requires a solution that brings back both strength and beauty in equal measure, and that's exactly what metal-free restorations can do. Made of 100% high-quality dental porcelain, these crowns can be shaped and shaded to seamlessly blend into any smile to create a natural look. In the end, the only people who will know you've had dental work will be you and your dentist.
Invisalign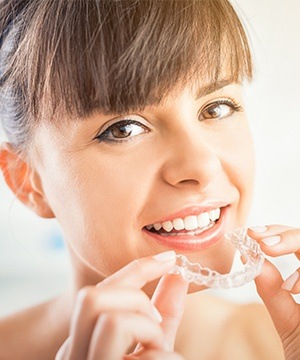 If you've wanted to straighten your teeth for a long time, but have avoided doing so because you didn't want to get metal braces, the wait is now over. With Invisalign, we can effectively correct crooked, crowded, and gapped teeth while enabling a patient to maintain their daily appearance in the process. Patients only have to wear a series of clear, lightweight plastic aligners that easily slip on and off the teeth. People won't notice you're wearing them, and whenever you want to eat or brush, you can just take them off until you're finished.
Dental Bonding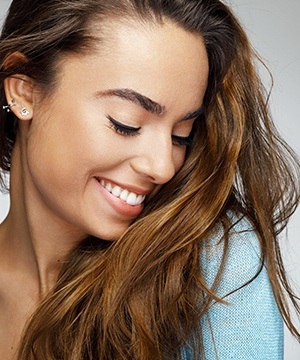 Cosmetic bonding is perfect if you have just one flaw in your smile that has bothered you for years. Small chip? Thin gap? Minor stain? Your dentist can cover an imperfection with a composite resin colored to match your teeth and then shape it to look just like healthy enamel. The entire procedure only takes about an hour, is completely painless, and it's one of the most affordable cosmetic treatments we offer.
Learn More About Dental Bonding
Teeth Whitening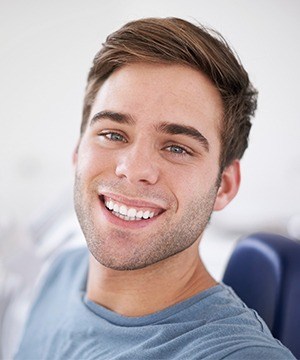 Having a perfectly white smile has been scientifically proven to make others judge someone as intelligent, attractive, and friendly, so if you're looking to turn up your teeth's brightness and get rid of annoying stains, there are plenty of good reasons to do it. Our dental office offers both a quick in-office whitening treatment as well as custom-made take-home kits you can use whenever you want. Whichever one you choose, you can look forward to the same result: a smile that is 6-8 shades brighter.
Learn More About Teeth Whitening
Botox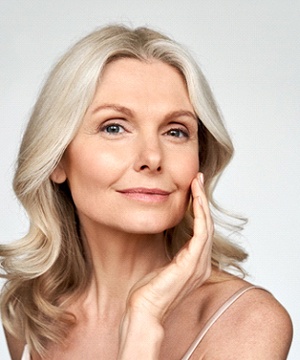 Are fine lines around your eyes beginning to make an appearance? Do you chronically clench your teeth at night, resulting in jaw soreness throughout the day? Do you struggle with unpleasant symptoms stemming from TMJ disorder? Our team has the solution you've been looking for: BOTOX. With a few safe, non-invasive injections, we can effectively smooth fine lines and relieve pain. The treatment is quick, and you'll begin to see the results for yourself in just a couple of weeks!
Understanding the Cost of Cosmetic Dentistry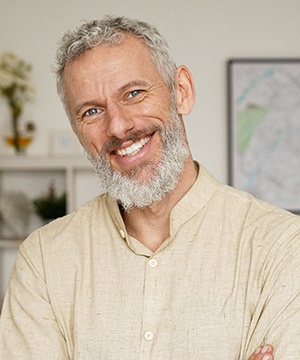 Cost is one of the biggest concerns among patients simply because cosmetic dentistry is not a service that is usually covered by a dental insurance plan. As a result, you'll likely need to pay out of pocket to complete treatment. Of course, you'll never be expected to navigate costs or your cosmetic needs on your own. Jupiter Implant and Cosmetic Dentistry is happy to help you figure out the best treatment plan based on your needs.
What Cosmetic Dental Service is Right for Me?
Through cosmetic dentistry, you can correct everything from stained teeth to misshapen enamel. However, there are multiple ways to accomplish your goals in most cases. The best way to know for sure how to transform your smile within your budget is to find out which cosmetic treatments can best meet your needs.
Dental Bonding – When small changes need to be made, such as permanent stains, small chips or cracks, and minor gaps, dental bonding is a great option. However, you will likely need a touch-up in a few years to maintain your results.
Teeth Whitening – This service is ideal for not just whitening teeth, but breaking down stains that are present in the deeper layers of your enamel. It won't do anything to address your tooth shape or position though.
Invisalign – Unlike bonding, whitening, or veneers, Invisalign is a long-term commitment that works to shift teeth into straighter positions. This means you can address multiple imperfections at a time, such as misalignment, gaps, tooth rotations, and uneven bites. This process will take anywhere between 12 and 24 months depending on your needs.
Veneers – Like Invisalign, veneers can be quite expensive to receive. They are also very versatile as a treatment, allowing you to hide chips, cracks, gaps, and discoloration with a single treatment. Plus, you can receive your veneers in just a couple of weeks.
Why It's Worth Investing in Cosmetic Dentistry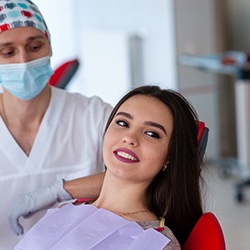 Cosmetic dentistry is typically a large financial investment upfront. With that said, if you've always felt self-conscious about showing your smile off, you'll likely be surprised by how much of a difference a beautiful smile can make in your self-esteem, confidence, and overall outlook on life. Not only will you feel more inclined to smile with friends and family, but you'll likely experience a positive change in your mood. This is especially the case if you plan to complete multiple treatments to achieve the smile you've always wanted.
How to Make Cosmetic Dentistry Affordable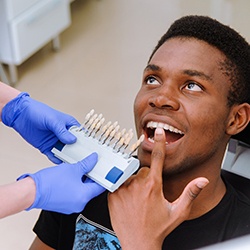 Dental care that is considered purely esthetic and holds no medical benefit won't be covered by dental insurance in most cases, which is why it's worth looking over other options to help make your care more budget-friendly. One option many people consider is CareCredit, a third-party financing plan that lets you pay for services over an extended period of time with little to no interest attached.
Alternatively, you can enroll into our office's savings plan to get additional savings on treatments provided in-house. This can make it easier to put more of your funds towards your smile makeover.
With all that said, we encourage you to schedule a consultation with our office to determine the best way to meet your smile goals within your budget.
Cosmetic Dentistry FAQs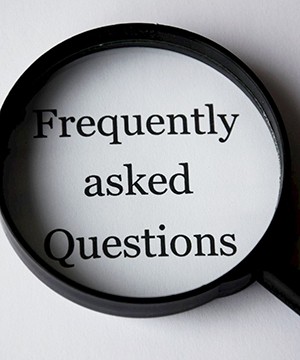 Are you unhappy with the appearance of your teeth? You don't need to be embarrassed by the way they look. Whether you have discoloration, chips, or gaps, you can achieve your picture-perfect smile with cosmetic dentistry. Although you would like to transform your teeth, we know you're still a little apprehensive. We'll explain everything during your initial consultation. In the meantime, here are the answers to a few of the most common questions patients ask us about cosmetic dentistry.
Which services are right for me?
There isn't any way to determine which treatments you'll need without first performing a consultation. Based on your concerns and the results you'd like to achieve, you may be a candidate for one or more procedures, such as:
Porcelain Veneers: Instantly hide several imperfections to improve the overall color, size, and shape of a tooth.
Metal-Free Restorations: Treat cavities and repair damaged teeth using tooth-colored solutions.
Invisalign: Correct your bite and alignment concerns without metal brackets or wires.
Dental Bonding: Fix minor aesthetic flaws using a composite resin material.
Teeth Whitening: Turn back time and get your teeth as much as 8 shades brighter.
Can my teen get cosmetic dentistry?
Believe it or not, there are many cosmetic treatments suitable for teens, like metal-free restorations, dental bonding, and teeth whitening. Some procedures might require your teen to have all their primary teeth before moving forward. We'll evaluate your teen's smile and discuss their options to improve their teeth.
How long will the process take?
There isn't any way to determine how long the transformation process will take without first creating a treatment plan. Some procedures can be performed in a single appointment, like teeth whitening. Others may require multiple visits, such as when choosing porcelain veneers. We know your time is valuable, which is why we offer convenient office hours and the latest technological advancements to streamline your care. We'll help you reach your goals quickly, so you spend less time in the dental chair.
How much does cosmetic dentistry cost?
There isn't a set price for cosmetic dentistry because the cost is based on your treatment plan. There are several factors that will influence the amount you'll pay, like the number of teeth you're treating and the complexity of your case. We'll provide you with an estimate during your initial consultation and discuss your payment options, like third-party financing.
Can I use my dental insurance to pay for my treatment?
Generally, dental insurance will not cover cosmetic treatments because they are considered elective; however, there are some exceptions. Nowadays, cosmetic and restorative dentistry often overlap. As a result, your policy may cover certain treatments if they are deemed necessary for your oral health, like a metal-free restoration. After reaching your deductible, your coverage can pay as much as 80% of the cost to help offset your out-of-pocket expense. A member of our team will work on your behalf to maximize your annual benefits, so you can achieve your dream smile without breaking the bank.