CEREC One-Visit Dental Crowns – Jupiter, FL
High-Quality Dentistry with Less Hassle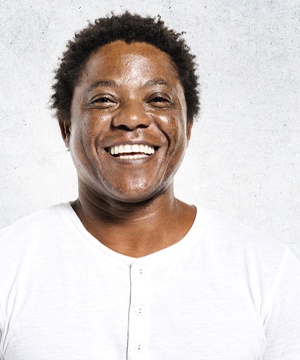 The process of getting a restoration like a crown, bridge, or denture can seem drawn out and time-consuming, especially for patients who are busy with work and school. Not everyone is able to take the time off necessary for the procedure. That's why we offer high-quality, custom-crafted CEREC one-visit dental crowns. Made from some of the best, natural-looking, metal-free materials, these restorations seamlessly incorporate into the rest of your smile. That way, you won't need to be self-conscious about the way they look. With a virtually indistinguishable appearance and added durability, our crowns will protect and restore the integrity of your natural tooth structure so you can eat, speak, and laugh with confidence.
Why Choose Jupiter Implant and Cosmetic Dentistry for CEREC One-Visit Dental Crowns?
Custom-Tailored Crowns Made In-Office
Advanced CEREC Dental Technology
High-Quality Restorations
What is a CEREC Dental Crown?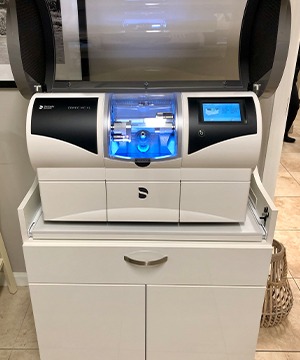 A dental crown is a small custom-made cap that's placed over damaged or decayed teeth. It can simultaneously repair your oral health while enhancing your appearance. The restoration can be made from several different materials, including metal, resin, ceramic, and porcelain. Another popular choice is a CEREC dental crown, which is made out of a very strong ceramic. It's designed, created, and installed using computer-assisted technology.
What Is CEREC Dental Technology?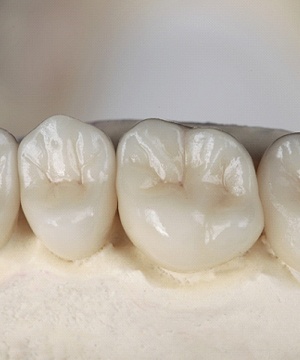 CEREC stands for Chairside Economic Restorations of Esthetic Ceramics. We knew you were wondering about it, so now that we got that out of the way, you can learn just how amazing it is. This technology has completely revolutionized dentistry, allowing professionals to craft high-quality, precisely fitting crowns, onlays, inlays, and even veneers in a single visit. Traditional procedures for these services typically take place over the course of multiple weeks and several visits.
We have an in-office dental milling machine that is made to create natural-looking restorations. The CEREC technology we use has three major components to it:
Acquisition Device— This is a high-quality camera and computer that are used to capture detailed images of the tooth that Shane Vaughn or Dr. Amiee Vaughn has prepared to receive the restoration. 3-D images are transferred to the high-tech software, creating a model of what your restoration will look like.
CAD Software— The 3-D model allows us to view all the specifications of your tooth and the CAD software gives us the technology to craft a precise and accurate blueprint for your new restoration.
In-House Milling Machine— Our in-house unit will manufacture your restoration using the specifications captured by the acquisition device and translated using CAD software. Within a matter of about 15 minutes, your restoration will be completed.
The Process of Getting a CEREC Dental Crown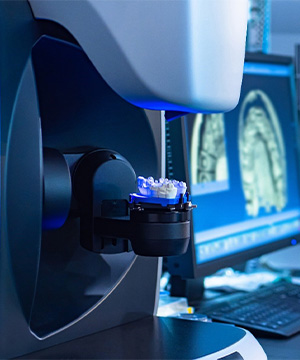 At Jupiter Implant and Cosmetic Dentistry, we want all of our patients to love their smiles, which is why we offer natural-looking restorations that blend in with the rest of your mouth using same-day dentistry. We also want you to be comfortable throughout the entire process, so if at any point you begin feeling anxious or fearful, we offer sedation dentistry options including oral conscious sedation, nitrous oxide, and IV sedation.
Once we have prepared your damaged tooth by removing any debris caused by decay and shaping it to fit the crown, we'll take the digital impressions. With these images, we'll design your restoration and transmit the blueprint to our milling unit. In about 15 minutes, it will craft your crown out of a solid block of dental porcelain.
Before we place it, we make sure that it fits your tooth perfectly and won't cause you any discomfort or trouble down the road. After polishing the restoration and permanently attaching it to your natural tooth, you'll be ready to go with no follow-up visit necessary!
How CEREC Crowns Benefit You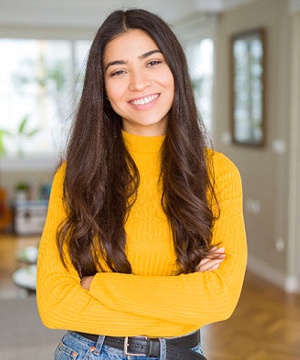 Ceramic and porcelain restorations are common dental treatments for many people. However, with the addition of CEREC technology, the procedure of getting a dental crown is easier than ever. It is:
Minimally invasive.
Completed in a single office visit.
Cost-effective.
Leaves more of your natural tooth structure intact.
Made from biocompatible materials.
Long-lasting.
No need for temporary restorations.
CEREC Dental Crown FAQS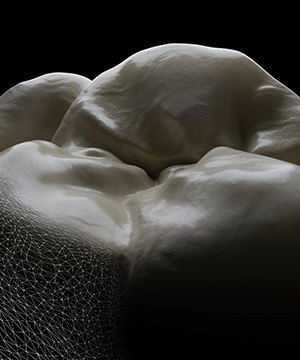 Before we begin the process of preparing your teeth for a CEREC dental crown, we encourage you to ask any and all questions that are on your mind. It's important for you to feel like you can truly smile at the end of the restoration process, and we'll only move forward with it once you're completely comfortable with what's going on. Let us know if you have any concerns that aren't addressed on this page.
Why Do I Need a Dental Crown?
The purpose of a dental crown is generally to restore a tooth that has been significantly broken or worn down. That said, there are many different reasons why a crown may be recommended in your case. They're normally placed if:
You have a cavity or dental damage that is far too extensive for a filling.
Your tooth has been worn down by constant grinding.
Your tooth is weakened thanks to decay and requires a crown before you can keep using it to bite and chew.
You've just had a root canal performed and you need to protect the tooth.
There is a gap in your smile, and you need a pair of crowns to act as support for the rest of the dental bridge.
How Long Will My Crown Last?
Your average crown will last around 7 to 10 years, though it's not unheard of for them to have longer lifespans. It all depends on how well you take care of the crown, which means keeping it clean through regular brushing and flossing while also staying away from overly hard or sticky foods that could damage it. Note that even though CEREC allows us to finish the restoration process in just one day, the crowns it produces are just as durable and long-lasting as those made the normal way.
Will My Crown Look and Feel Like My Normal Teeth?
CEREC crowns are completely made out of a ceramic material that mimics both the color and light-reflecting properties of real tooth enamel. The average person can't tell the difference between CEREC and a natural tooth, so there will be no need to hesitate when it comes to showing off your smile. The smooth surface of the restoration will also be much more comfortable in your mouth compared to a metal crown, giving it a much more natural feel.
Can Problems Develop Over Time While Wearing a Crown?
As with any restoration, there is a possibility that problems will occur over time. If you're getting a CEREC dental crown in Jupiter, you must take proper care of your smile and maintain a healthy lifestyle to avoid experiencing complications. Some common issues that can occur include:
Discomfort or sensitivity following your procedure
The crown becomes chipped
The crown becomes loose
The crown falls out because of improper fit or lack of dental cement