All-On-4 – Jupiter, FL
An Excellent Way to Fully Restore a Smile!
Losing all of your teeth can really hurt your confidence as well as your ability to speak and chew your favorite foods. In these cases, an All-on-4 procedure can be life-changing. A full arch of false teeth is supported by only 4 dental implants, providing excellent stability and a strong bite. Dr. Shane loves using All-on-4 in Jupiter to give patients a fully-functional, beautiful smile; he'd do it every day if he could! If you're facing life with missing teeth, make an appointment at Jupiter Implant and Cosmetic Dentistry to see if All-on-4 is right for you.
How Do All-on-4 Implants Work?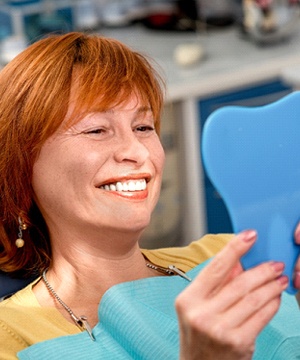 Traditional dentures rest directly on the gums and are held in place by suction or some form of adhesive. By contrast, All-on-4 secures the denture to the jaw using 4 metal implant posts surgically attached to the bone and secured thanks to a natural process called osseointegration.
Not only will the implants hold your new teeth firmly in place, but your jawbone won't suffer from the bone loss that typically occurs when teeth are missing. You'll be able to enjoy a fully restored smile while avoiding many of the limitations of removeable dentures.
Am I a Candidate for All-on-4 Implants?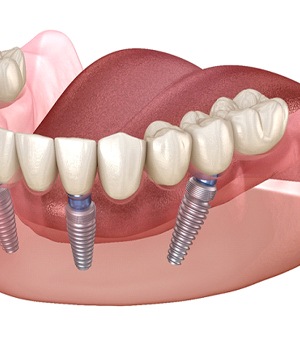 All-on-4 is used for patients who need to replace all of their teeth. One key point of the procedure is that the posterior implants (the ones in the back) are placed at a 45-degree angle, allowing them to take advantage of the greater bone density in certain areas of the jaw. This reduces the need for grafting in patients who have already experienced bone loss.
Generally, your mouth needs to be infection-free before a dentist in Jupiter can place implants; it's also important for your body to be able to heal properly. Dr. Shane can check the current state of your oral health before deciding whether All-on-4 is a good option in your case.
Benefits of All-on-4 Implants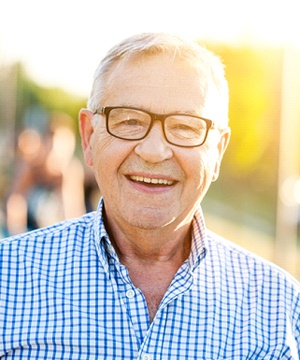 Excellent Longevity: If you take good care of your implants and continue your regular dental visits, they can last for decades – sometimes even the rest of your life!
A Healthy Jawbone: Getting dental implants in Jupiter can stop your jawbone from deteriorating by restoring blood flow in the area. Not only will this help keep your jaw strong, but it will also help you maintain a more youthful look.
Eat What You Like: The chewing power provided by implants is almost on par with natural teeth; you can enjoy all of your favorite meals without having to worry about your false teeth slipping.
All-on-4 VS Traditional Dental Implants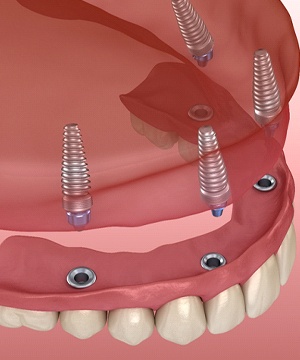 Traditional implant procedures sometimes require bone grafting before the implants can be placed. Thanks to the strategic placement of the posts in All-on-4, the need for such surgeries is greatly reduced; it can be a great way to save you time and money.
Additionally, you might have to wait several months before receiving prosthetic teeth with a traditional approach. In most cases, All-on-4 will allow for a temporary denture to be placed while the mouth heals, allowing you to enjoy a full set of teeth in just one day!