Preventive Dentistry – Jupiter, FL
Basic Dental Care That Goes Above & Beyond
Checkups and cleanings are essential to maintaining a healthy smile as the years go by, and you can get these services at pretty much any dental office, so why come to Jupiter Implant & Cosmetic Dentistry? In short, because we go above and beyond even with the most basic care. At your routine appointments, we'll gather as much information as we can about your entire mouth, not just your teeth, so we can prevent all kinds of problems. And, right from the beginning, we'll completely personalize your care so that it's perfectly suited to your unique smile. Here, we treat you like family, and that's exactly why our patients love us. To schedule your next appointment, give us a call today.
Why Choose Our Dental Office for Preventive Dentistry?
Husband & wife team make our office feel like a home
Ready to serve your entire family under one roof
Dental insurance welcomed & maximized
Dental Checkups & Teeth Cleanings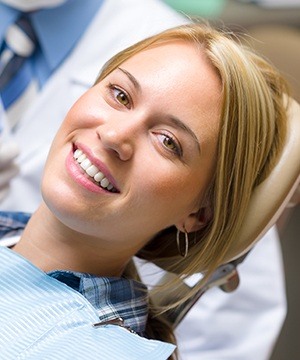 If you're hoping to keep your entire family cavity free, then we recommend brushing and flossing every day as well as attending at least one checkup and cleaning appointment every 6 months. At these visits, your dentist will thoroughly examine not just your teeth, but your gums and jaw as well so they can catch and treat any minor problems during their earliest stages. And, regular cleanings will not only remove plaque from those hard to reach areas of your mouth, but they will also break up minor surface stains to ensure your teeth stay nice and white.
Learn More
Oral Cancer Screening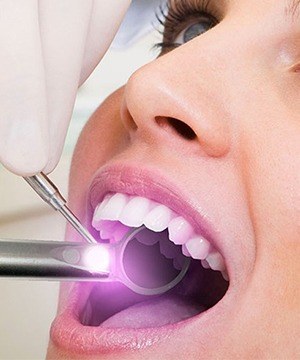 You don't need us to tell you that oral cancer is a very serious disease, but did you know that it can be very hard to detect early on? This leads many people to not seek out care until the cancer is quite advanced and difficult to treat. To make sure this disease doesn't have the chance to sneak up on our patients, we perform an oral cancer screening at every checkup. Our trained eyes will be able to spot the signs much sooner than you so you can get the care you need as quickly as possible.
Fluoride Treatment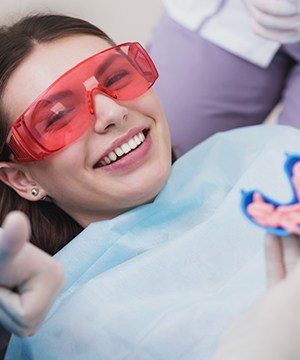 Fluoride is literally all around us. You'll find it in some foods and added to most oral healthcare products and community water sources. When exposed to the teeth, this mineral actually helps fortify the enamel and even repair minor areas of damage that could turn into cavities later. Because of this, we include a topical fluoride treatment as part of our regular preventive care. We just coat the teeth with a highly concentrated fluoride solution for a minute or two to dramatically lower a person's risk for decay between appointments.
Nightguards for Bruxism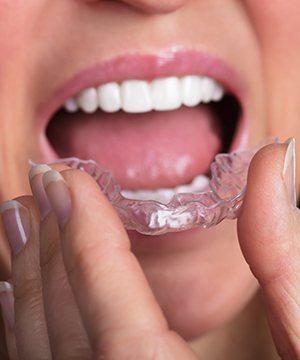 People respond to daily stress in a number of different ways, but for some, it actually causes them to unconsciously grind their teeth while they sleep, which is called bruxism. This can cause all sorts of issues if left untreated, weakening the teeth until they break and straining the sensitive jaw muscles. Fortunately, a nightguard offers a simple and effective solution that literally fits in your pocket. It is a small oral appliance that a patient only wears to bed, and it places a thin protective barrier between the teeth to prevent any grinding.
TMJ/TMD Diagnosis & Treatment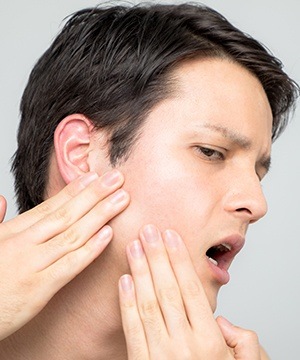 Does your jaw ache or feel stiff all the time? Do you constantly have headaches or earaches and can't figure out why? If so, this could all be due to a temporomandibular joint (TMJ) disorder, or TMD. This concerns the small hinges that link your lower jaw to the rest of your head. Whether due to strain, injury, arthritis, or another reason, problems in this area can lead to chronic pain throughout the jaw, face, head, and neck. For patients in need, our team cannot only diagnose these kinds of problems but provide proven treatments as well. Whether by rebalancing the bite, providing a special mouthpiece, or soothing spasming muscles with Botox injections, we can help patients achieve the long-lasting relief they deserve using a personalized approach.
Mouthguards / Sportsguards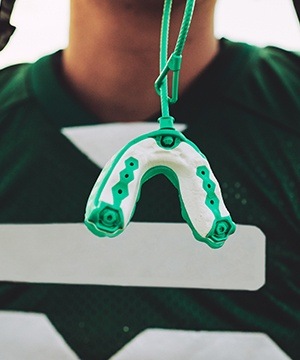 It's extremely important for an athlete to wear the right safety equipment every time they play, but many leave one of the most important parts of their body completely unprotected: their teeth. Whether due to other players or flying equipment, sudden impacts can lead to chipped, broken, and knocked out teeth as well as sizeable dental bills. In order to avoid all of this, our team can provide our patients with custom-made mouthguards. Unlike those generic guards from the store, ours are specially made to fit a patient's unique teeth, leading to more comfort and unmatched protection so their smile can always end a game in the same condition as it started.