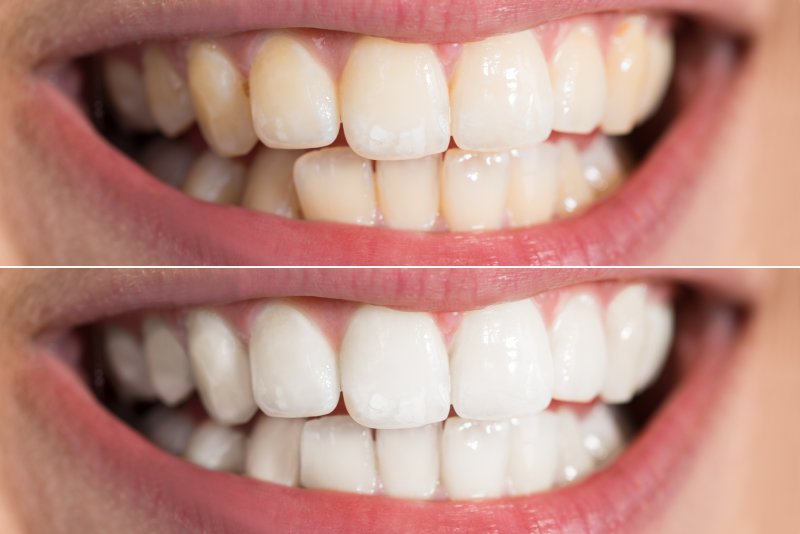 With a professional teeth whitening treatment, your cosmetic dentist in Jupiter can dramatically brighten your pearly whites in about an hour. However, if you want your new smile to last, you'll need to be careful of what you eat, especially in the days following the procedure. Take the time to learn which foods to avoid and which to enjoy after teeth whitening.
What Do You Need to Avoid?
In general, you should avoid foods and drinks that could create new stains or irritate sensitive teeth for 24 to 72 hours after teeth whitening in Jupiter. That includes:
Dark Colored Liquids: Tea, coffee, red wine and tomato juice are all infamous for staining teeth.
Sugary Foods: Cookies, ice cream and other foods filled with sugar can cause tooth irritation.
Acidic Beverages: Your teeth will be sensitive to soft drinks, fruit juices and alcohol after the procedure.
Any Item That Fails a White Shirt Test: Ketchup, chocolate and anything else that would visibly stain white clothing should be avoided for at least 24 hours.
What Can You Eat?
Skinless turkey or chicken with the fat removed is a good option while your teeth are still sensitive. Other "white" foods (white fish, white rice, pasta, bread, egg whites without the yolk, white cheese) are perfect during this period because there's little to no chance of staining. Talk to your dentist about other options that will help protect your new and improved grin.
How Else Can You Protect Your Teeth?
Naturally, you should keep brushing after your procedure. To avoid irritating sensitive teeth, make sure you're using a soft bristle brush and a nonabrasive toothpaste. You should also drink as much water as possible (ideally from the tap, as it contains fluoride). This will encourage saliva production and help keep your teeth clean, which goes a long way towards avoiding re-staining. Finally, if you use tobacco products or vaping devices, you should give them up altogether; otherwise they could completely undo the effects of teeth whitening.
How Can You Make Teeth Whitening Last?
Even after you resume your normal diet, you'll need to take good care of your teeth to keep them looking their best; that means eating sensibly and sticking with tooth-friendly foods that are rich in lean protein, calcium, vitamins and minerals. Brush and floss thoroughly two to three times every day; make sure you clean all of the available surface for each tooth.
Don't forget to see your cosmetic dentist at least twice a year. Not only will they be able to catch dental health concerns as early as possible, but they can give your teeth a touch up so they continue to look dazzling. After all, once you've experienced life with a winning smile, you'll be keen to keep it!
About the Practice
At Jupiter Implant and Cosmetic Dentistry, Dr. Shane Vaughn and Dr. Amiee Vaughn are a husband-and-wife team that works together to make sure all their patients feel welcome and understand the treatment they receive. They can use teeth whitening to brighten your smile in an hour, but they also offer take-home kits that offer similar results after about two weeks. To schedule an appointment, visit their website or call (561) 747-7172.