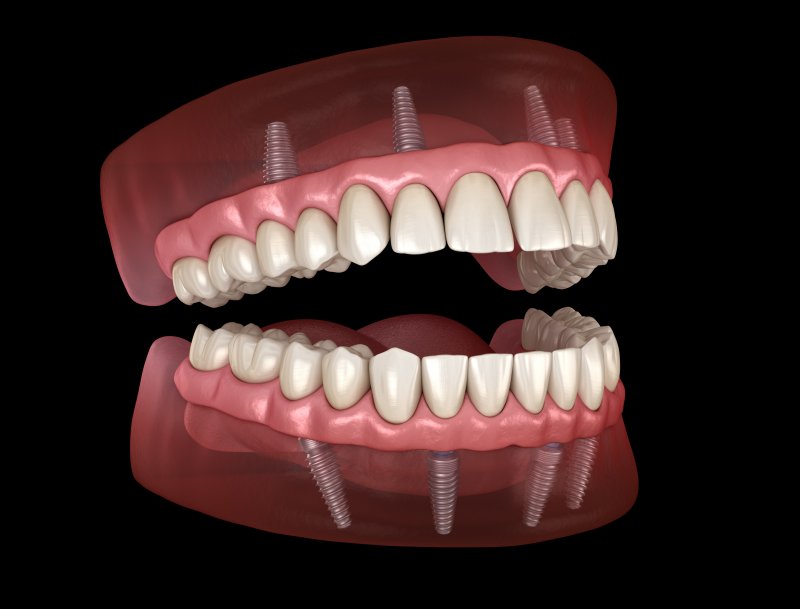 When teeth go missing, you want a fast and easy solution to restore your smile, right? You've probably looked at all your options and decided that implants sound like a superior method of treatment and a good investment in your time and money, but can they get the results you want in the timeframe you're expecting? To better understand the process, let's take a look at All-On-4 in Jupiter, how it works, and whether you're a good candidate for this type of treatment.
What is All-On-4?
Unlike traditional dentures that only sit on the gum line, or dental implants in Jupiter that require, on average, 6 implants and a strong jawbone to hold up the restorations, All-On-4 offers patients a truly unique alternative to achieving a fully restored smile.
All-On-4 uses 4 metal implants to secure your custom-made dentures into place. You don't have to worry about your natural suction holding it in place or needing a bone graft or sinus lift to add extra support to a weakened jawbone. For patients looking for a quicker solution to achieving a rebuilt, fully functional smile, there's no better option than All-On-4.
How Does It Work?
While you might have heard that All-On-4 gives you teeth in a day, that's not entirely true. Yes, you will leave with teeth in places where your missing ones once existed, but it's only temporary. The process is a bit more involved and requires much planning on the part of your dentist.
To start, you and your dentist will discuss your goals and treatment during an initial consultation. Reviewing your dental health, you can expect he will take impressions of your mouth to aid in building your new prosthetic.
During your next appointment, you will have the implants surgically placed. Using 4 implant posts that mimic your tooth's root, your dentist will strategically place the implants into your jawbone. It is important that a process called osseointegration occur. This is where the implants will fuse to the bone and surrounding tissue. This can take several months to achieve.
Fitting you with a temporary denture prosthetic will be the next step, essentially giving you "teeth in a day." It won't be until your permanent denture is finished that you'll receive the finalized version of your smile.
Who is a Good Candidate?
If you think All-On-4 sounds like a good solution for you, there are a few ways to tell if you might be a good candidate for this treatment, but remember, only your dentist can determine if it's right for you.
You need to replace all your teeth
If you've been told you aren't eligible for an implant-retained denture because of a weakened jawbone
Your oral health is in good shape and "infection-free"
Your body is able to heal properly. Expect to answer some questions about your medical history and overall health
If you're looking to replace your teeth with a fast and effective solution, talk to your dentist about the possibility of All-On-4. Not only will you have a fully restored smile that offers greater stability and functionality, but the investment you'll be making will last a lifetime.
About the Author
Dr. Shane Vaughn has a passion for helping others. Earning his Bachelor of Science in Chemistry and Biology from Kentucky Wesleyan College, he went to work in pharmaceutical research for two years before making the decision to enter dentistry. Completing his Master of Science in Oral Biology at the University of Louisville School of Dentistry, he then received his Doctor of Dental Medicine. As a current candidate for Associate Fellow in the American Academy of Implant Dentistry, Dr. Vaughn is trained in oral surgery, dental implants, and sedation dentistry. He and his wife Amiee strive to provide all patients with fully restored, beautiful smiles. If you're missing teeth and need a solution that will give you the smile of your dreams, let Dr. Shane offer his expertise and extensive training to rebuild your smile from the roots up. For questions about our services, visit our website or call (561) 747-7172.