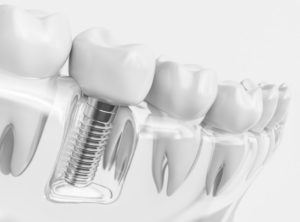 According to the American College of Prosthodontists, an estimated 178 million Americans are missing at least one tooth. As a member of this group, you're probably aware that there are many ways you can replace your tooth. But which procedure is best? Approximately 3 million Americans have dental implants and the number is quickly growing. With an extremely high success rate, dental implants are favored for their natural look and feel. In this post, your dentist explains each step in getting dental implants in in Jupiter for a healthy, lifelong smile.
Before the Procedure
The first step in receiving your dental implants is determining your individualized treatment plan. Your dentist will consider your oral health, face and jaw structure and how many teeth are being replaced. They should then be able to provide you with an estimate of the treatment time and procedure cost.
Before your surgery, your dentist may have you complete some pre-operative care. This includes using a special anti-bacterial mouthwash, taking antibiotics and scheduling a ride to and from the appointment.
The Day of Surgery
The next phase of the treatment is the surgical placement of the implant. Because your mouth will be numbed with anesthesia, you may feel some pressure but not pain. An incision is made in your gums to expose the underlying bone, which is then drilled into to create a space for the implant. The screw-like implant is fitted snugly into place within your jawbone. Your gums are then closed over the implant and a stitch may be placed.
Over the next few months, a bonding process called osseointegration will occur. The implant fuses with your jawbone like a natural tooth root. This ensures a solid base for your replacement tooth, also known as a crown.
The Restoration Process
After carefully monitoring the implant's integration, your dentist will then attach an abutment. This piece sits above the gums, both holding the implant in place and connecting it to your new crown.
Over a series of appointments, your dentist in Jupiter will start to design your new crown. They will usually make impressions of your teeth to ensure proper alignment. Using a model of your bite, your new crown is developed, matching the color of your natural teeth. If multiple implants have been placed in your mouth, a bridge of crowns will be created.
The final step of the implant process is the placement of the crown. Your dentist may want to try fitting a crown before it is completely finished to ensure it is the right shape.
Dental implants are the most natural tooth replacement option, both looking and feeling like your regular teeth. As you choose a team to complete the procedure, consider picking a practice that offers both the surgical replacement and the restoration. Working with the same team throughout the implant process will save you time, money and stress, allowing you to enjoy your new smile with ease.
About the Practice
At Jupiter Implant and Cosmetic Dentistry, Dr. William Vaughn utilizes his background in clinical research to offer his patients thorough and friendly care. After graduating, he attended a one-year residency at the University of Kentucky where he trained in oral surgery and dental implants. Dr. Vaughn is a member of the International Congress of Oral Implantologists, American Academy of Implant Dentistry and the American Academy of Cosmetic Dentistry. If you have further questions about dental implants, he can be reached through his website or at 561-747-7172.