How Do Dental Implants Work? – Jupiter, FL
Tooth Replacement for a Natural Smile
Understanding how dental implants work is rather straightforward. That's because they are built so much like your natural teeth. First, a dentist in Jupiter sets the implant post in your jawbone. This replaces the root of your missing tooth. Then, a small abutment connects the implant to the tooth restoration. Once the post, abutment and restoration are in place, you have a lifelike tooth replacement to complete your smile. Continue reading for more details about the dental implant process.
Initial Dental Implant Consultation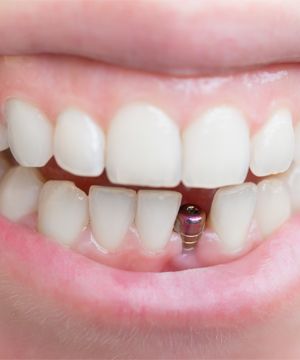 The dental implant process begins with a consultation between you and Dr. Vaughn. Together you will discuss different tooth replacement options and what you can expect if you choose dental implants. Implant surgery and recovery will be explained, and our front office team will prepare an estimate of the cost.
Next, a treatment plan is developed based on a thorough oral examination. The dentist will examine your gums and the teeth surrounding the space in your smile as well as your facial features and jaw structure.
Woman smiling in mirror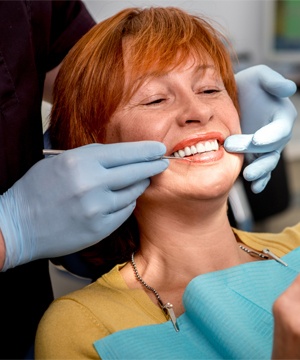 For most of our patients, implant surgery is no more complicated than treatment for a cavity. First, a local anesthetic is administered to numb the site. You may feel some pressure, but there won't be pain. An incision in your gums reveals the bone beneath your missing tooth. Then, a small section of bone and the implant is surgically inserted. Over the course of the next few months your gums will heal.
Dental Implant Osseointegration and Abutment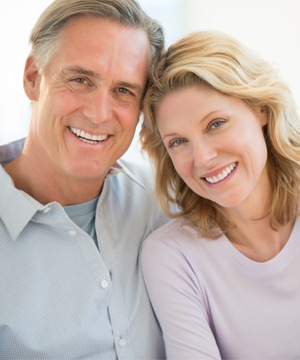 As your gums heal, a lot is happening below the surface. The implant and surrounding bone tissue bond in a process called osseointegration. The implant actually becomes part of your jawbone just like a natural tooth root. This strong connection ensures a solid footing for your new tooth.
After a few months when the implant and bone have integrated, an abutment is attached. This small but important piece holds the implant down in place and connects the final tooth restoration to the implanted post.
Placement of Dental Implant Restorations
The finishing touch is placement of the restoration. The extent of your tooth loss will determine the kind of replacement you need. For a single missing tooth, you'll have a porcelain crown. If you have several missing teeth, then a bridge can be attached to two to four implants. And for an entire arch of missing teeth, a full denture can be connected to several implants that are strategically positioned along your jaw.